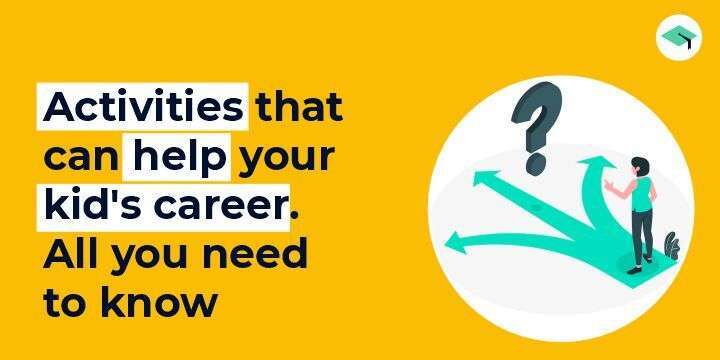 Activities that can help your kid's career. All you need to know
Your daughter comes running breathlessly only to tell you her selection for the next basketball match. Oh! Did she mention the money she needs for the uniform and kit?
Children's enthusiasm touches heights when they get the correct exposure. For this, their skills must align with their passion. To do this, parents must work on exploring the child's inert capabilities/passion and provide them with the right platform.
Exploring activities that can help your kid's career is the first step toward this discovery. Let's know why.
Importance of extracurricular activities for kids
Help gain expertise in a niche
Learn teamwork
Develop problem-solving skills
Improve creativity
Enhances career prospects
Top 5 Activities That Can Help Improve Child's Career Prospects
Here is the list of activities that may help boost your child's career. You may also find some tangible ways to fund your child's extracurricular activities.
1. Music
Some children prefer to play music while others sing. Your child may excel at both. When your child learns music, apart from knowing how to play instruments, and knowing about music origins, they may also learn discipline, how to socialize, and cultural skills.
They feel confident about themselves and perform well academically. Analyze the inclination of your child and the instrument they like the most. Gaining expertise in playing a musical instrument requires consistent practice.
Thus, the expenses may include- musical classes, buying instruments, etc. You can buy a used instrument initially or check out the discount on the same by exploring multiple sites.
2. Sports
Cricket is the most popular sport in India. Cricket, chess, badminton, or basketball, every game helps nurture discipline, competitiveness, and strategic and creative thinking.
The sporting journey entails various expenses, from tournament participation to buying the kit, travel, coaching, etc. You can seek a scholarship to fund these.
3. Cooking and baking
Most kids are naturally inclined towards the interesting blend behind delicious dishes. Cooking teaches your kids important concepts like the right balance, temperature, volume, quantity, and taste.
If you find your child experimenting in the kitchen, fund his dreams. Set up a different savings fund to pay for their sudden demands- cooking classes, set, or attending overseas cooking competitions.
4. Martial arts
Martial Arts like Karate, Taekwondo, and Judo help your child develop personality by learning self-defense skills and strengthening muscles.
These skills help your child master overcoming aggression and control strength. It also helps build a good physique.
5. Sewing Classes
Sewing may not be the first thing on a parent's mind as an extracurricular activity, but it helps one get creative with colors and patterns.
Many children grew up as fashion -designers learning the skill.
Additional read: How to know you are investing in the right mutual fund?
How to fund your child's short-term dreams easily?
Parents often shiver at the price tag associated with kids' activities. And worse, sometimes it falls uninvited.
As per the News 18 Survey of 2218 households, "63% of guardians have an average income of below six lakhs". On average, a guardian spends Rs. 850 a month on children's extracurricular activities." The growth of extracurricular activities fueled by smartphone use will increase by 8 billion by 2023.
Here is how you can plan financially before exploring activities that can help your kid's career:
1. SIPs
SIPs enable investors to make fixed-amount investments instead of a lump sum in a mutual fund scheme. You could invest as little as 500 a month and set it up as a recurring deposit. Market volatility and timing hardly affect it.
2. Scholarships
If your child is pretty good at sports, they may qualify for a scholarship. Scholarships help cover stay costs, practice costs, equipment, and travel.
It grants ample opportunity to experiment, learn, and gain knowledge and expertise over a certain skill.
3. Invest in high dividend stocks
Investing in high dividend stocks means investing in equities yielding good dividends for your investment. Some companies provide up to 200 rupees dividends.
Investing in companies like this can help you earn 4000-5000 in 3 months. It could assist you in meeting the child's extracurricular activities.
4. Fixed Deposits
It is the best high-return option for short-term investment. Capital safety and guaranteed returns make it a viable saving option.
With a fixed deposit calculator, you can calculate the total amount to deposit and the returns to expect after maturity. It can help you fund activities that can help your kid's career.
5. Savings account
Savings accounts provided maximum liquidity. You can earn interest on your savings yearly. The account helps improve an individual's income. Explore the highest interest rates before opening an account.
Conclusion
EduFund has an exclusive savings section for parents to invest in their child's extra-curricular activities. Parents can choose a suitable investment scheme that suits their child's activity and start saving for the goal.
Consult an expert advisor to get the right plan