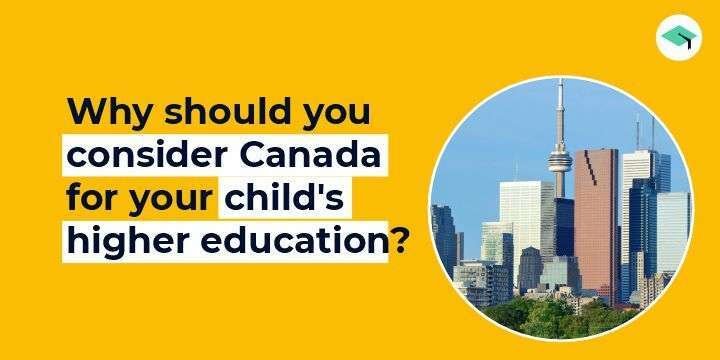 Why should you consider Canada for your child's higher education?
In the last 8-9 years, Canada has steadily grown in social standing as the desired location for higher education. It ranks among the most popular destinations for Indian students.
Quality education, graduate assistantships, and many government policies regarding immigration are some of the reasons why you should consider Canada for your child's higher education.
For students who are seeking programs that are cost-effective and shorter in duration, allowing them to cut down on living expenses, Canada has the most acceptable community education system in the world.
Advantages of studying in Canada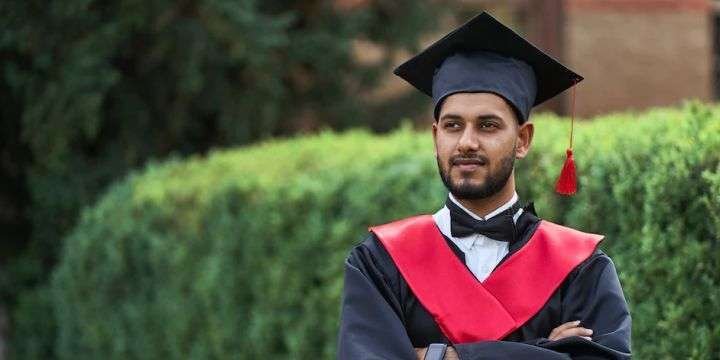 1. Academic Skills
Education is a federal responsibility, regional governments ensure that the standard of education is uniformly high across Canada, no matter what kind of institution – college/university.
Regarding educational streams, all types of programs from different strands are accessible in Canadian academic institutions.
2. Developmental skills
Co-operative work is a wonderful concept in Canada that supports students with employment options in their related sectors while attending university. As a result, an engineering student is granted the chance to participate in work for an engineering firm while studying.
This gears up students for the actuality by exposing them to a work situation early and instills professionalism with skill development.
3. Quality of life
Canada has repeatedly been graded as being among the world's safest countries. The Global Peace Index ranked Canada as the sixth most peaceful place in the world in 2018. International students enjoy the same entitlement as any other Canadian student.
Standard of living also refers to necessities of life such as atmospheric air, safe drinking water, the feeling of space, and so on, as well as other life-related factors such as significant exposure to the best health care services, strong educational infrastructural facilities.
4. Cultural diversity
Canada is a friendly and accepting community. Individuals from different countries of the world have been planning to migrate to Canada for a long time.
This gives Canada a competitive advantage in terms of diverse cultures. Canadians respect other cultures and see them as a symbol of motivation and strength.
Students can enjoy festivals of all racial backgrounds year-round, and the best part is that the festivities are not confined to the ethnic community. Still, the rest of the country embraces all festive celebrations.
5. Immigration opportunity
Since overseas students spend much time in Canada, they will become potential Canadians. They are given adequate opportunity to comprehend and adopt Canadian culture while studying and up to three years to recognize Canadian work culture.
What it ends up in is likely to be prospering once the studies are completed. Indian students are opting for Canada for their university education, and interest in Canada is growing significantly yearly
Additional read: Hidden cost of sending the child to Canada
The number of Canadian college graduates between 2000 and 2019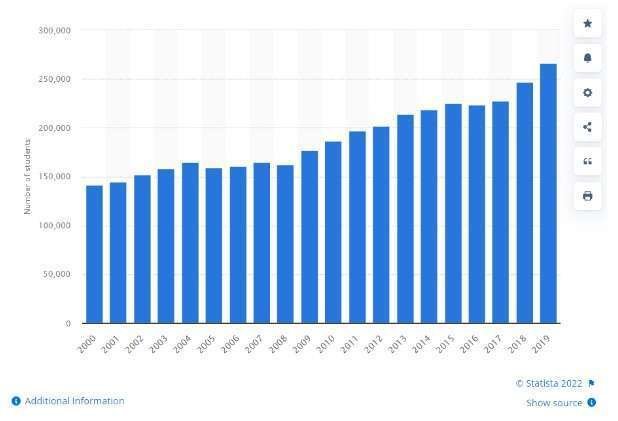 From 2000 to 2019, the number of university graduates in Canada increased
Number of postsecondary graduates in Canada in 2019, segmented by degree type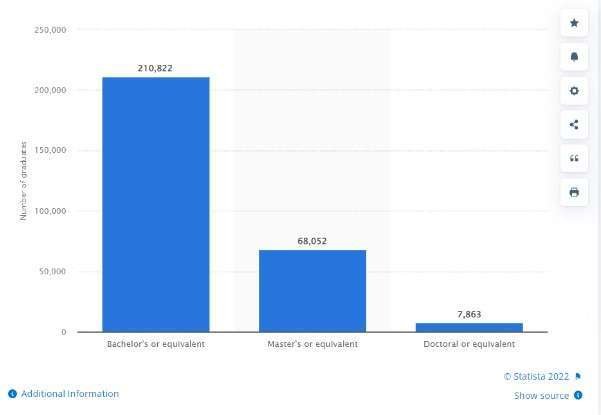 Better paying jobs for children of Canada immigrants
According to a Statistics Canada report, the children of economic immigrants attend school longer and have higher-paying jobs than the typical Canadian-born employee.
By the age of 30, the children of economic immigrants in Canada earn more than the average Canadian worker by 29.3%, commanding a median annual wage of $55,500 versus the $42,940 made by the average Canadian employee of the same age.
Economic immigrants' children can command higher wages because they attend college or university at a higher rate than Canadians.
International students in Canada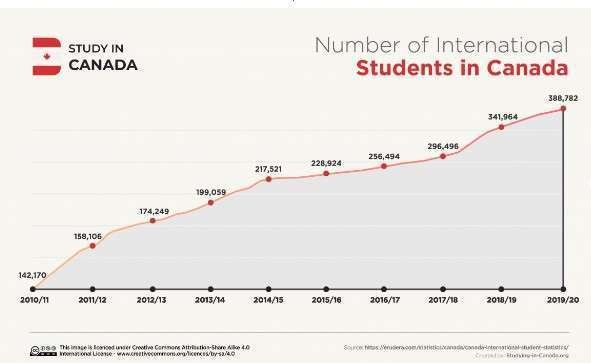 International students enrolling in formal education increased from 142,170 in 2010/2011 to 388,782 in 2019/2020 in just ten years. As a result, by 2019/2020, the amount of international enrolled students improved from 7.2 percent to 17.8 percent.
Within ten years, one out of every ten international students arrived in Canada in 2000 or became a landed immigrant. As a result, new ideas are being inspired, innovation is being boosted, and people-to-people relationships are being strengthened, all of which are important for international commerce and worldwide trade.
The number of international students intending to study at the secondary and primary school levels has been declining in recent years. Meanwhile, that has been countered by an increase in the percentage of individuals planning to study for a college or master's degree.
One of the main reasons students like to study in Canada is the high quality of education. Many Canadian universities offer cutting-edge innovative exploration and new technologies.
Canadian universities typically hold the highest international rankings and offer amazing placements and a chance to live in the world's most peaceful cities in the world.
Hence, considering Canada for your child's higher education is a good choice.
Consult an expert advisor to get the right plan