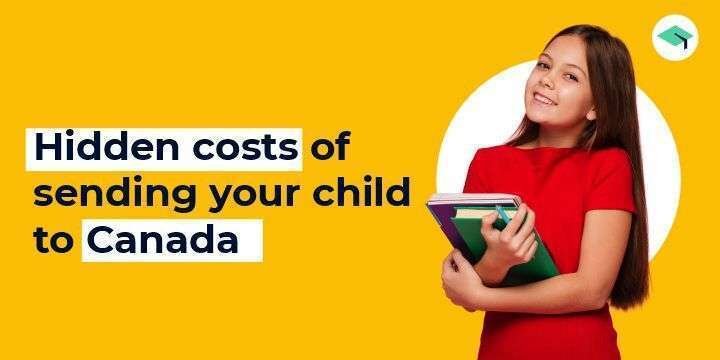 Hidden costs of sending your child to Canada
Canada is a trendy destination for higher studies for Indian students because of its affordability and immigrant-friendly nature.
As of 2021, more than 8 million immigrants living in Canada have permanent residency, which is about 21.5% of the total population of Canada.
While it is a dream destination, there are many hidden costs of sending your child to Canada that you may not be aware of and can strain your budget while planning.
Cost of sending your child to Canada
The cost of sending your child to Canada to study varies because of many factors like the province, choice of university, living standards, scholarships or grants, etc.
But the average tuition fee of a university is roughly ₹70-95 lakh for the entire duration of the course in the top 10 universities other than the University of Toronto, which usually comes on top of the list.
This cost can easily go up to ₹1.2-1.5 crores depending upon the course, lifestyle, and the growing retail and education inflation on the market.
Expenses before departing for Canada
There are various other expenses that most people don't discuss. Here are some things you'll be spending on before your child even departs for Canada (other than their expenses):
1. English Language proficiency tests:
Most institutes require an English language proficiency test at the time of application itself. There are a few types of these.
| | |
| --- | --- |
| Test | Registration fees |
| IELTS | ₹14,700 |
| TOEFL | ₹14,000 |
| GMAT | ₹18,800 |
| GRE (general/subject) | ₹16,600/12,500 |
| CAEL | ₹11,000 |
2. Guaranteed Investment Certificate or GIC
GIC is one of the financial proofs used to obtain a student visa for Canada.
The students must purchase a special guaranteed investment certificate (GIC) for CAD 10,200 (₹6,26,000) from one of the partnering banks, such as Nova Scotia Bank, ICICI Bank, SBI Canada Bank, or CIBC Bank, to adjust their living expenses for the first year.
Banks also deduct approximately CAD 200 (₹12,300) as administrative fees (depending on the bank).
Immediately upon arrival in Canada, the student is given CAD 2000 (₹1,23,000). The students will then get CAD 8000 (₹4,91,000) in 12 equal installments to cover their monthly living expenses.
3. Application Procedures
Depending on your program, each institution charges an application fee. It can vary between CAD 45 to CAD 200 (₹3,000-13,000) for international students.
In addition to your child's academic or work experience transcripts, they must submit their language test results to each university when applying.
Additional read: How to fund your child's masters in Canada?
4. Application for a study permit
The application for a study permit costs CAD 150 (₹9,200), and the cost of biometrics (photograph and fingerprints) is CAD 85 (₹5,200).
5. Application for medical tests
The medical tests are a part of the visa process. The Canadian embassy may require to choose a doctor from the panel that the Canadian government has suggested and furnish all the results of the listed exams.
You must pay the doctor's fees, special tests, radiologist, and any necessary treatment.
6. Booking the flight ticket
The final expense before leaving for Canada is the flight tickets. These flights can cost anywhere between ₹1-2 lakh depending upon the duration, place of departure, etc.
Additional read: Master's or PGDM in Canada vs the USA
Expenses after arriving in Canada
After you've paid your child's tuition fee for the first year and the other expenses before sending them. The first thing is the living expenses.
Living expenses can cost around ₹60-80 lakh (for the entire duration) depending on their lifestyle and the city you've chosen.
Cost of accommodation, travel expenses, health insurance, utility bills, and miscellaneous expenses are living expenses.
1. Accommodation
Living on a university or college campus:
Staying on campus in dorms, shared rooms, or private room is the most cost-effective accommodation. It cuts down your transportation costs. The estimated cost of living in Canada is between CAD 3,000 to 7,500 (about ₹1,80,000 to 4,50,000) per year.
Living in rented accommodation:
If you wish to live off-campus, keep in mind that you will need to pay two months' worth of rent (the first and last months' rent) and a damage deposit before moving in.
A private apartment in Canada can cost roughly CAD 8,000-10,000 (₹5-6 lakh) per year, not including other expenses like internet, electricity, food, and furniture.
2. Health insurance
International students must have health insurance that covers them in Canada and offers round-the-clock, seven-day-a-week medical care.
However, health insurance rules depend on which province. The cost could range widely, from ₹35,000 to ₹55,000 per year (CAD 600 to CAD 900).
3. Other expenses
The average daily expenses per month can cost as follows:
Food (Groceries & Eating out) – CAD 300 (₹18,500)
Phone & Internet – CAD 50 (₹3,000)
Public Transport – CAD 80 – 250 (₹5,000- 15,000)
Entertainment – CAD 150 (₹10,000)
These are rough amounts and they will vary a lot on an everyday basis.
The hidden costs of sending your child to Canada can disrupt your budget! But with the right planning for all these expenses, you can make studying your child in Canada as easy as a walk in the park. Start saving and planning for your child's dreams.
Consult an expert advisor to get the right plan