What is the cost of sending your child to Singapore?
Studying abroad is an experience that can improve language abilities and advance job possibilities. According to a recent HSBC study, parents all over the world appear to agree with this idea.
If you're one of those parents then this page is for you. The article below will discuss the costs of sending your child to Singapore and how to manage their expenses.
How much does studying in Singapore cost?
Singapore is well-known for its excellent education and upholds high levels of education and learning. Studying in Singapore is generally less expensive than in other popular overseas study destinations.
Let's discuss the various costs of higher education in detail.
Cost of school education in Singapore
The price of education is determined by the kind of school or university your child is enrolled in. Also, it tends to depend on when you intend to send your child to school or university.
When you send children to the pre-nursery classroom (18 months of age to two years), the monthly fee can range from as low as $256.80 for a half-day program to as heavy as $1,978.60 for a half-day program at some elite institutions.
Regarding your child's primary or secondary school education, there are approximately 70 international schools to choose from. Annual fees can range from $10,000 to $15,000, with a maximum of $40,000.
You may also choose to enroll your child in one of Singapore's public schools. The annual fee for foreigners ranges from $8,000 to $15,000, roughly half the cost of such an international school.
College tuition fees in Singapore vary based on the university and course your child attends, as well as your nationality. Tuition fees in Singaporean schools may be higher than that in neighboring countries.
Let's discuss the cost of higher education in Singapore.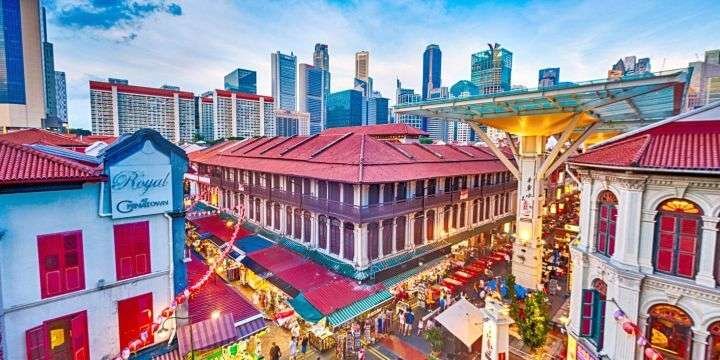 Cost of college education in Singapore
A public university typically costs between SGD$ 8,000 and SGD$ 9,000/ year. However, this is the concessionary price.
Non-subsidized and non-Singaporean students pay around SGD 10,000 or more. The government also subsidizes some programs in Singaporean schools, regardless of nationality.
The government of Singapore provides a substantial tuition subsidy in the form of a MOE Subsidy. It is available to any eligible students.
There are broadly two types of universities in Singapore: public and international university campuses.
The government primarily supports public universities. As a result, they might provide identified students admittance at a lowered tuition fee.
Certain universities charge international students more than local Singaporeans. Singapore's international and foreign universities and colleges are typically costlier than public university campuses.
Additional read: Cost of education in Australia
What is the cost of tuition fees at public universities in Singapore?
We are comparing the tuition fees for one year for accounting and finance programs at six public-funded universities.
For 2019, all tuition fees are in Singapore dollars and include local tax.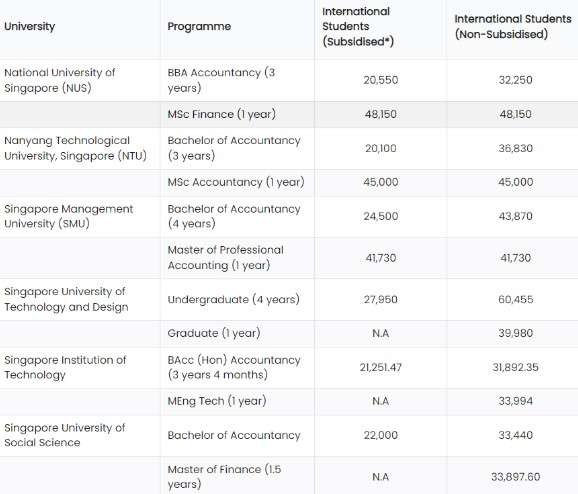 Singapore's Ministry of Education (MOE) provides tuition subsidies (Tuition Grant) to international students attending local public colleges.
Under this scheme, international students will be expected to find employment in Singapore-registered major corporations for a minimum of three years after graduation.
As a result, overseas students (non-MOE subsidies) must pay an average of SGD$33,000 *3 = SGD$99,000 to finish an accountancy Bachelor's degree at a public university in Singapore.
Other degree programs may take longer than 4 years and may cost more.
Additional read: Cost of education in Canada?
What is the cost of tuition fees at international and foreign universities in Singapore?
The table shown below provides a more detailed breakdown of tuition fees for a few institutions that offer accounting and finance-related programs:
All tuition fees are the full course program fees in Singapore dollars for 2019, inclusive of local tax.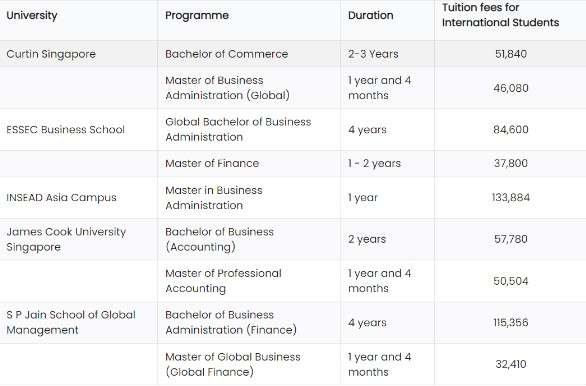 As seen above, the international student tuition fees to complete a Bachelor's degree at a foreign and overseas university in Singapore range from SGD$ 51,840 to SGD$ 115,350, based on the type of the course.
Tuition for a master's degree ranges between SGD$ 46,080 and SGD$133,884.
The cost of studying in Singapore varies according to the level of education. The cost of living varies according to individual living standards, but the average monthly fee for a student could range from SGD$ 1,000 to $3,000.
Numerous private institutions are also very popular. Among the top names is INSEAD, a global management school with a campus in Singapore that allures international students from all over the world. Indeed, in the last decade, the country's growing education sector and geographic advantage have persuaded many foreign universities to establish campuses there.
Among the well-known institutions are the Chicago Business School and the Technische Universität München, Asia.
Conclusion
Singapore provides quality education at a reasonable price, resulting in greater value for money. The universities are internationally recognized, have collaborations, and are founded on innovative pedagogy.
Parents wishing to send their children abroad must start financial planning early on to support their children in the best.
Consult an expert advisor to get the right plan