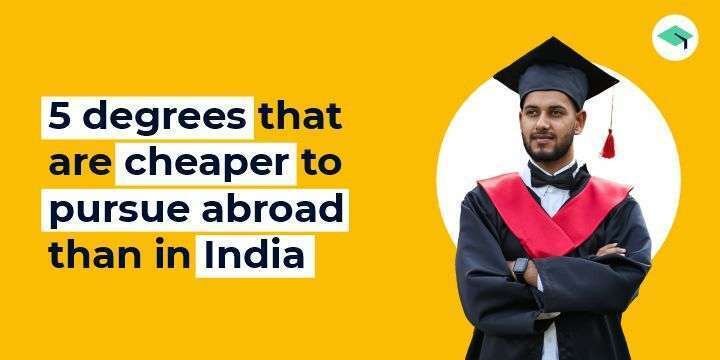 Know Which Degrees have Highest ROI Abroad
Studying in a foreign country is a dream for an Indian as it opens new doors to career opportunities and growth. The general notion amongst Indian parents is that they will not be able to afford the huge fees and related expenses of studying abroad.
Price and affordability are important factors that every parent has to take into consideration before sending his child on a specific career path.
Are you aware that there are at least 5 degrees that offer better ROI abroad than in India? Moreover, the opportunity of being a part of the global education system and getting a degree that is internationally recognized is unparallel.
5 Degrees that offer better ROI abroad than in India
Students with academic excellence can get grants and scholarships in foreign universities. The reduced fee structure makes it easier for them to travel abroad for further studies
Here are 5 degrees that are cheaper to pursue abroad than in India with great employment opportunities are:
1. Engineering
Engineering is one of the highest-paying jobs in the world, with a demand factor for engineers far outweighing the supply quotient.
If you are looking for one of the best among the 5 degrees that are cheaper to pursue abroad than in India, then engineering is a sure bet.
Related fields in engineering include
Mechanical Engineering
Civil Engineering
Biomedical Engineering
Petroleum Engineering
Environmental Engineering
Computer Engineering
The average salary of an engineer varies between $80,000 – $90,000, with a mechanical engineer earning around $83,590, a civil engineer at $82,220, a biomedical engineer at $86,220, and a petroleum engineer an estimated salary of $88,700.
Many foreign universities offer scholarships that can reduce the overall cost of studying and offer high-paying internships to add to your overall resume.
After graduation, engineers can easily find high-paying jobs in countries like the UK, USA, Norway, Germany, Australia, and Canada.
Additional read: What is the cost of education in India?
2. Actuarial science
Students who are interested in actuarial science can expect a hefty pay package post-study. It is one of the unique study courses in the STEM fields with very high demand in countries like the USA, UK, New Zealand, and Australia.
Students who study actuarial science can work as
Actuarial Analysts
Assurance Managers
Internal Auditors
Health Actuaries
Audit Managers
Financial Auditors
The occupational areas of actuarial science include professional technical and scientific services and finance and insurance. You can understand the high demand for actuarial scientists in developed countries by its estimated salary median of $97,070.
3. Pharmaceutical Science
Pharmaceutical science and healthcare are important study courses that provide numerous growth opportunities in your career path. The estimated average annual salary of a pharma scientist is between $80,000 – $100,000.
People who have chosen this field develop new drugs, evaluate medication use, prepare medications and also educate patients about the different medications
Students who are studying pharmaceutical science can work as
Pharmaceutical Scientists
Medical Publisher
Research Assistant
Quality Control Assistant
Drug Safety Associate
Microbiologist
Pharmacy Technician
Pharmaceutical science is an in-demand degree course as students can easily get good jobs in biotech and drug manufacturing companies, government agencies, academic institutions, and hospitals.
4. Computer Science / Cyber Security
Students who want to study computer science or cyber security have a bright future as these are high-profile jobs with great demand in both developing and developed countries like the USA, UK, Israel, and Germany.
Students pursuing this degree course can work as
Security Administrator
Cyber Security Analysts
Security Architect
Security Consultant
Information Security Analyst
Firewall Administrator
The average annual salary of pass-out with these degrees is an estimated $90,120. They work towards safeguarding the computer systems and network of a company and shielding them from any sort of cyber-attacks and data breaches.
5. Finance
Last but not least among the 5 degrees that are cheaper to pursue abroad than in India is the finance course study. Students who pursue this course have better job opportunities in countries like Japan, the USA, the UK, Australia, and Ireland
The average annual salary of $89,160 acts as a powerful magnet to lure students toward this course. After completing their studies, they can work as
Financial Advisor
Personal Banker
Wealth Strategist
Portfolio Manager
Financial Planner
Lending Analyst
The occupational areas of students pursuing a career in finance are financial investment firms, loan groups, and banks.
It is a fact that most students face indecision about pursuing higher studies in India or abroad just because of the high-cost structure.
The ROI offered by these programs makes them a great investment. These courses are universally claimed and are in demand because of their international demand.
Countries like the US, Australia, Germany, Netherlands, Belgium, UK offer incentives like scholarships, grants, work permits, and job placements to encourage students to take up these courses and enter their workforce.
Consult an expert advisor to get the right plan