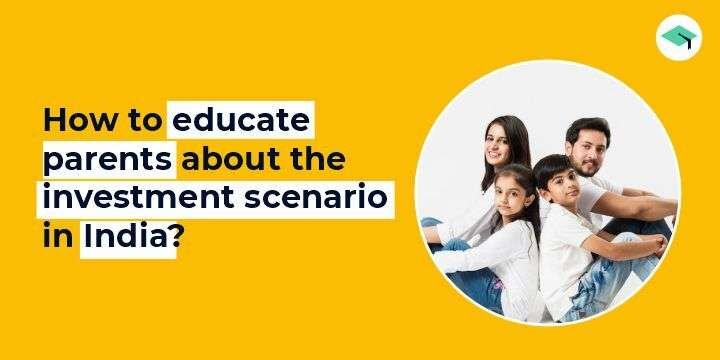 Everything about teaching your parents about the investment scenario in India
Did you know that only 0.18% of people in India invest in equities? Our parents, grandparents, and grand grandparents have been taught to invest in FDs, real estate, gold, LIC, and PPFs.
This tradition of investing in safe assets is hard to break.
Ways to educate your parents about the investment scenario in India
1. Tell them about the benefits
The biggest benefit of investing is the opportunity of growing your wealth. Investing in a disciplined manner can help investors grow their savings and reach financial goals.
You might not be able to duplicate the net worth and investment of growth of stalwarts like Rakesh Jhunjhunwala but investing small amounts of money in equity-based markets can yield significant returns over the years.
It can help your parents build a retirement fund and beat the inflationary prices of general goods and services.
Other benefits of investing in stocks, mutual funds, and ETFs are liquidity (which means you can withdraw your money anytime you want), diversify your wealth (you can invest in a number of stocks that belong to different industries), opportunity to get dividends (some stocks and companies give dividends to their long-term investors) and interests that beat inflation.
Another benefit is that you can start with a small sum and scale up after gaining a better understanding. Markets have enough space for small and big investors to meet their financial goals!
2. Spread awareness about Inflation
Inflation has broken the projections given by RBI at the beginning of 2022! It has remained uncomfortably high across the globe and pushing the prices of goods and services to an all-time high.
The only way to protect your purchasing power is to start investing and making your money work for you. Consider this, money in your bank account gets an average interest rate of 2-3%, FDs have an interest rate of 5-6% while inflation is raging at the rate of 6-7% in India alone.
Inflation attacks your money in savings and FDs, which is why exploring newer investments is a smart way to beat inflation and protect your money in the long run.
3. Accessibility to investing and tracking
Investing is becoming easier and easier due to the bloom of fintech start-ups and financial influencers in India.
The wealth of knowledge about investing, saving, and financial planning can be overwhelming but is a great way to educate a country that has traditionally shied away from investing.
There are thousands of apps that help Indians invest in a number of financial instruments. As investors in India, all you need is a PAN card, Aadhar card, and a banking account to get started on any investment app.
From investing in Mutual funds, and digital gold to US stocks and ETFs, the opportunities are endless! You can track your investment with no brokerage fees, and absolute transparency and get professional guidance from experts on how to start investing based on your financial goals.
However, it's important to be aware of where you are investing your money and to check that the App or platform is SEBI registered. Make sure to take all the precautions and understand the risks that are associated with investing.
4. Encourage them to secure their savings
While money in your bank account or FD is safe, it is not enough to keep up with the growing prices. The cost of products like oil, vegetables, transport, and education is growing at a higher rate than the average income across India.
To bridge the gap, you can start exploring the investment market and diversify your funds. The market has enough opportunities for risk-averse investors, retired individuals, and newcomers! With proper guidance and an abundance of information, you can protect your savings via investing.
These are some ways to educate your parents about the investment scenario in India. Over the years, millions of Indians have entered the investment market of India.
You and your parents could also benefit from the market if you start investing properly and in a disciplined manner. Don't start randomly, study the market, do your research and consult a professional to minimize risks and protect your savings!
Consult an expert advisor to get the right plan