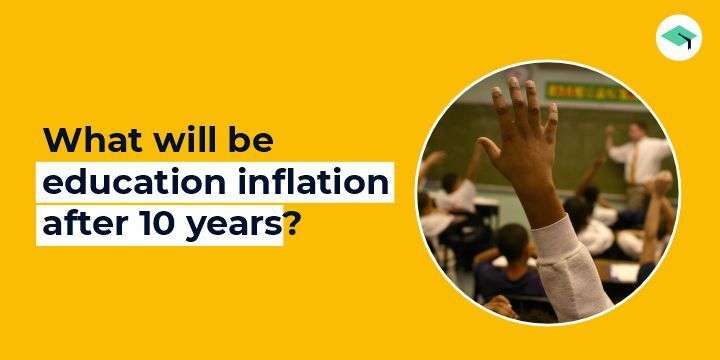 What will be education inflation after 10 years?
After a severe decrease during the pandemic's second wave, education inflation has already been rising continuously.
Although inflation in the industry was 0.63% in April 2021, it soared to 4.12% a year later, as academic establishments resumed across the country.
Analysts claim this will rise more in the coming months due to the return to routine post-Covid and the increased reliance on tuition.
The CPI index for education has been declining since June 2020, when the country was placed under severe lockdown owing to the epidemic. While it began to rise in May 2021, the increase was not particularly steep.
Education Inflation is rising
In India, education inflation is gradually increasing. According to National Sample Survey data, the cost of elementary and upper primary schooling increased more dramatically, rising by 30.7% and 27.5%, respectively, between June 2014 and June 2018.
Higher education saw a lower percentage growth. While graduate degree prices increased by 5.8%, PG and higher course fees increased by 13.19 %. This was a period of growing CPI inflation in education.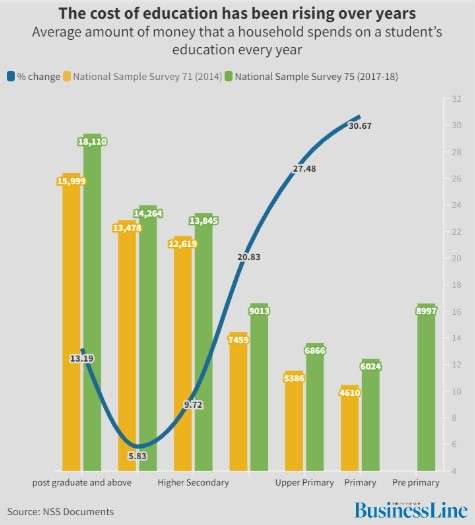 However, almost all higher education institutions were closed for over a year in 2020, immediately following the pandemic.
While some universities recalled their academics and master's students after the initial wave passed, schools did not reopen fully until 2022.
Schools did not demand any additional costs aside from tuition fees from parents when online classes were being held. Some states had also asked schools to collect only a percentage of the original costs.
Students did not choose any other school-related facilities at the time. Since everything has returned to normal, inflation in this industry is expected to grow.
College prices soared over 4 decades
Over the last four decades, college tuition has skyrocketed.
According to the National Center for Education Statistics, the yearly cost of attending a four-year college full-time in 1980 was $10,231 (including tuition, fees, room and board, and inflation adjustment).
By 2019-20, the overall cost had risen to $28,775.
Additional read: How to repay education loans faster?
180% increase
College costs have risen across the board, but private non-profit universities are more expensive than public colleges. In 2019-20, a full-time student at a private non-profit institution paid $48,965, compared to $21,035 at a public college.
Nevertheless, the trend has decreased since 2019. Based on the data from the college board, average tuition, fees, and room and board at private non-profit four-year schools fell 0.2% from 2019-20 to 2021-22.
Prices fell another 1.7% between 2020-21 and 2021-22. During the same period, public four-year colleges' tuition followed a similar pattern. With this increase in college prices, the situation after 10 years will be higher with inflation added.
The expected rise in tuition fees
While food inflation increased by 9.62% between 2012 and 2020, school expenditures increased by 10%. College tuition fees in India have risen dramatically over the years.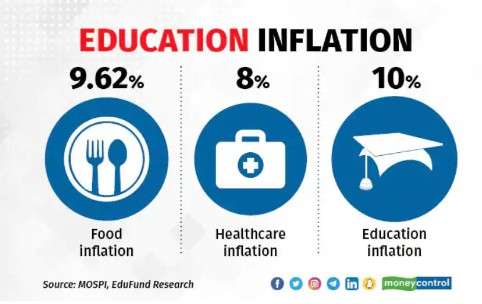 Below is some information on complete course fees for specific courses and how they are likely to grow in the next years, based on fee increases in previous years.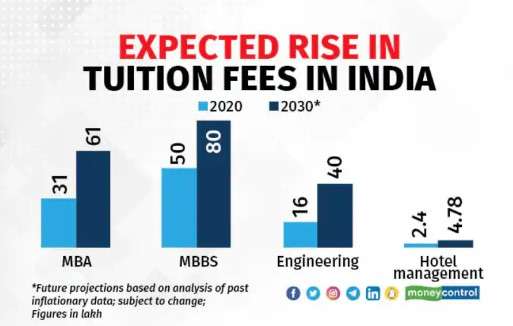 Increased tuition fees in international universities
Regardless of the coronavirus pandemic, several international colleges raised their tuition for 2022-2023.
Tuition rates at the University of Pennsylvania will rise by 2.9%, while education at Arizona state university will increase by 5% for international students.
Tuition costs for international students at all three universities of Illinois campuses are expected to rise by 1.5 – 2.5%
Education inflation after 10 years
Inflation in education raises the expenses of students' basics, such as accommodation, food, and transportation, as well as tuition fees, making it even more essential for students to spend very little and earn however much further possible.
With the overall cost of attending college increasing, students will most certainly have to take out more loans; also, these new loans will have higher interest rates than in previous years.
For the 2022 – 2023 school year, the interest rate on a federal undergraduate loan has already climbed to 4.99%, up from 3.73% last year. As a result, education inflation after ten years will almost certainly be substantially higher than it is now.
Watching unending tuition increase is discouraging parents & students and making them feel powerless in stopping it. However, as an informed consumer, you may make wise decisions to avoid paying more than you can afford.
Conclusion
For many students, borrowing is the only means to pay for a college education.
It can be tough to deal with these financial constraints in college. It is critical to have a financial plan in place to deal with inflation.
Consult an expert advisor to get the right plan