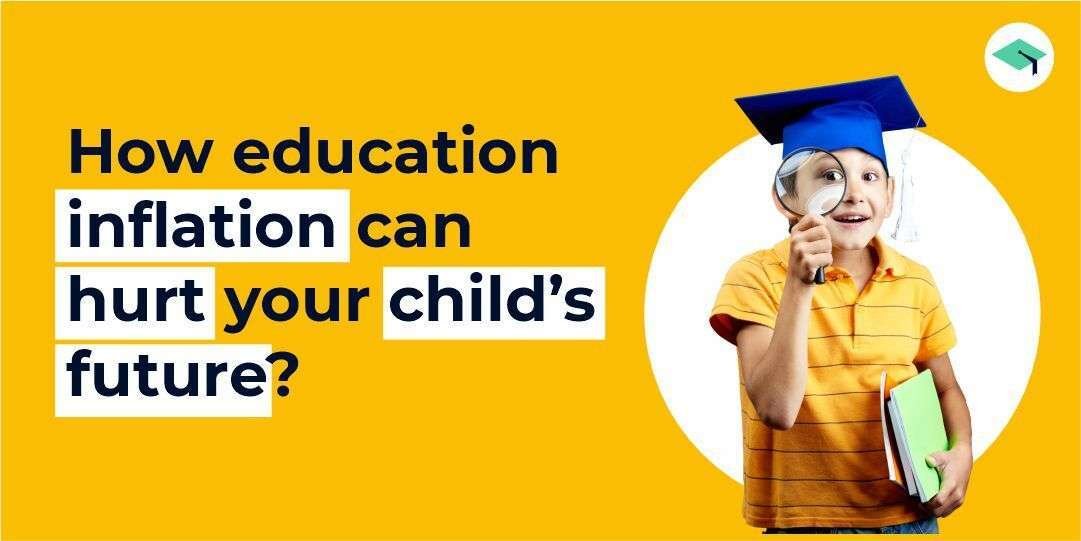 How education inflation can hurt your child's future? All you need to know
Did you know that the rise in your child's tuition fees results from rising inflation in India? Inflation affects the costs of fruits, vegetables, cars, and even houses, and education is not immune to this increase.
Education inflation is not the only factor affecting the increasing cost of education. Factors like government funding cuts, higher cost of living, higher administrative salaries, better infrastructure, dollar appreciation, and higher demand for college education.
Here is how education inflation can hurt your child's future without you even realizing it.
What is education inflation?
Education inflation refers to rising education expenses over some time. You probably heard that the Indian Institute of Technology (IIT), India's most celebrated government institutional body, hiked up its tuition fees.
The universities increased the cost of tuition from Rs. 90,000 to Rs. 2 lakhs for all understanding courses. This increase could have easily driven any unprepared Indian parent to borrow money from the banks. Hence, this is the silent yet unrepairable impact of education inflation on your child's future.
Universities across the globe increase their tuition fees due to inflation to ensure a smooth running of their universities. This price hike has been consistently growing and has gradually resulted in high student debt, increased drop-out rates, and broken dreams of higher education and careers.
Education inflation's impact is not limited to tuition fees. This phenomenon leads to an increase in registration fees, university application fees, transportation costs, accommodation costs, books, and a sharp rise in food prices (mess prices).
Increased tuition fees
In 2020-2021, many Indian parents moved their children from private to public schooling amidst the pandemic. The cause was an increase in tuition fees at private schools despite the ongoing norm for online instruction.
The impact of education inflation coupled with the loss of jobs and stagnant incomes led to this mass movement from private to government schools. While many students shifted schools, some were forced to leave it altogether due to a lack of financial and technology resources like laptops or phones for learning.
Similarly, according to the Unified District Information System for Education, over 39% of students aged 20-24 are forced to drop out of college to help their families and become earning members. This stems from a sheer lack of education planning as well as the unaffordable increases in schooling and college prices.
While many Indian parents struggle to provide primary education in India, there are those whose kids dream of studying at universities like Yale, Harvard, or Oxford. These parents need to be prepared to spend a significant amount on tuition fees and manage the cost of living in a different currency in foreign countries like the UK, USA, or Canada.
Additional read: What is the cost of school education in India?
The rising cost of foreign education
Countries like US and UK are prevalent among Indian parents and students. India is the second largest source of international students after China, and every year, these universities increase their tuition fees in response to the growing demand and inflation.
Over the years, the average cost of studying bachelor's in the United States rose by 497 percent (from 1985-86 and 2017-18). This is twice the rate of annual inflation in the same period.
In fact, many overseas universities hiked their college fees for 2022-2023. The University of Pennsylvania announced a 2.9 percent increase in tuition fees, while Arizona State University announced that tuition fees would increase by 5 percent for international students. The University of Illinois will likely see a 1.5-2.5 percent hike in tuition fees.
Delhi University, India's most popular central university, recently increased its fees for all undergraduate courses and included service charges, facility fees, college facility fund, and student welfare fund. It will be an average of 10% increase in overall university fees across colleges.
How can you protect your child's college education from inflation?
Many parents do not realize the rising cost of education until it's too late. They have little to no option left – either they must compromise on the quality of education or go for education loans that take years to pay off. Both these options can dramatically impact your child's future and potentially risk their careers.
Saving and investing early is the right way to protect your child's college education. The sooner you start investing, the better it is. Time horizon can determine when you need the money, how much you need it, and how to reach the goal. These questions are fundamental when considering investing in your child's education expenses.
The country you send your child to can determine what should be the predominant asset class. If you are planning to send them to a foreign country, then considering US equities and US ETFs is highly beneficial the geographical diversification in terms of investing can help you cover the purchasing power parity in the future when your child starts spending in dollars or pounds.
If you have a young child studying in school and planning to go to college in 8 – 10 years, then investing and saving for their future is a must. You can start with mutual funds, equities, and US markets. If you are new to investing, consulting an expert who understands your needs, risk aversion, and goals is a must
Consult an expert advisor to get the right plan