Reasons why education inflation is rising in India? All you need to know
The news about education inflation rising in India is not new. Education inflation is a subset of inflation and can be cancerous for your child's future.
Let's look at why is education inflation rising in India.
What is education inflation?
Education inflation refers to the unexpected financial rise in the domain of education. The cost of education tends to rise by quite a large margin.
The hidden charges associated with education add up to the overall expense. When we hear about inflation, we tend to think about the rise in the prices of fruits, fuel, daily supplies, and so on.
But surprisingly, inflation in the field of education tops the chart. From the years 2012 to 2020, India has experienced an enormous rise in the costs of education 10%.
Students and their parents get affected deeply by it because it creates a direct impact on the access to the quality of education that they are getting.
If parents do not plan for it well in advance, they might have to face a major financial crisis when their child goes for higher education.
Factors contributing to education inflation in India
1. Energy and Oil prices
The setback in terms of energy and oil prices due to global economic and political conditions has led to an acute increase in prices and contributed to the rising Inflation in countries like India that import oil. Inflation in April 2022 rose because of the sharp change in prices of crude petroleum, natural gas, mineral oils, and essential metals. They rose by 10.80% in April this year compared to 7.52% in March 2022.
2. Shaky geopolitical order
Rising Inflation in India is because of the disruption in the supply and demand chain as well as the geopolitical disorder caused by the Russia- Ukraine War. India imports items like sunflower oil and fertilizers from Ukraine. Due to trade cut-offs, the supply shortage for these commodities has led to a rise in demand.
3. Fall of the rupee against the dollar
The rupee has depreciated against the US Dollar consistently. It saw its all-time low this year with a currency exchange rate of Rs. 79 to 1 dollar. The USD is growing stronger against major currencies in the world.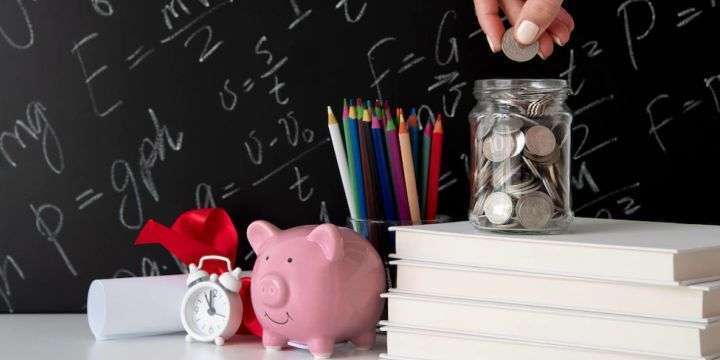 The reason why is education inflation rising in India
1. Increase in Tuition Fees
An increase in tuition fees of schools and colleges in India is the cause and reason for rising education inflation.
These rising costs affect current and future students who wish to study at top universities. While scholarships, grants, financial aid, and education loans are great ways to combat the event, they might not be enough.
A prompt education planning that understands the rate of inflation can help parents plan more efficiently!
The impact of high tuition fees can have dramatic effects – it can lead to students dropping out of college mid-day, taking on enormous education loans with high-interest rates, and even forgoing colleges that may help them advance in their careers.
2. Modern Infrastructure and maintenance
Most schools and colleges have modern infrastructure, facilities, research centers, and expensive equipment. Good universities provide recreational facilities such as a cricket ground, volleyball ground, indoor games room, auditorium, canteen, library, and so on.
The construction and maintenance of all these resources require a lot of expenditure which is charged by the students. It also includes the campus fees which are used as an umbrella term. Furthermore, there are certain training and placement programs that are added to the tuition fees.
Certain subjects require laboratories where all types of equipment are provided to facilitate the research process. The campus is digitalized for a better technological experience and all the computers are connected with a proper internet connection.
This also adds up to the overall expenditure on studying.
3. Higher cost of living
The standards of living of people have risen significantly. People want to live a better life with all the necessities and certain luxuries that they desire for. Amidst all this, they spent a huge amount of money to satiate their wishes.
Furthermore, proper investment is not done which later creates financial pressure. Parents must start some sort of a savings or investment plan for their child to counter the ever-increasing rate of education inflation.
The expenses which are spent on measly stuff should be carefully monitored and invested elsewhere to generate a potential corpus for the future of your child.
4. Pandemic
The COVID pandemic has been a significant reason for the cause of the increase in education inflation. The economy of the country has been deeply hit which led to an increase in the cost of everything present around.
In the year 2020 when the pandemic paved its way, all the schools were closed for more than a year. Also, classes were held in online mode.
The additional fees were not charged by some schools. Parents had to pay only the tuition fees. But after the pandemic got over and schools and colleges reopened, there was a drastic increase in the cost of education. Schools and colleges that tried to compensate for the loss caused during the pandemic were charged by the parents.
Consult an expert advisor to get the right plan