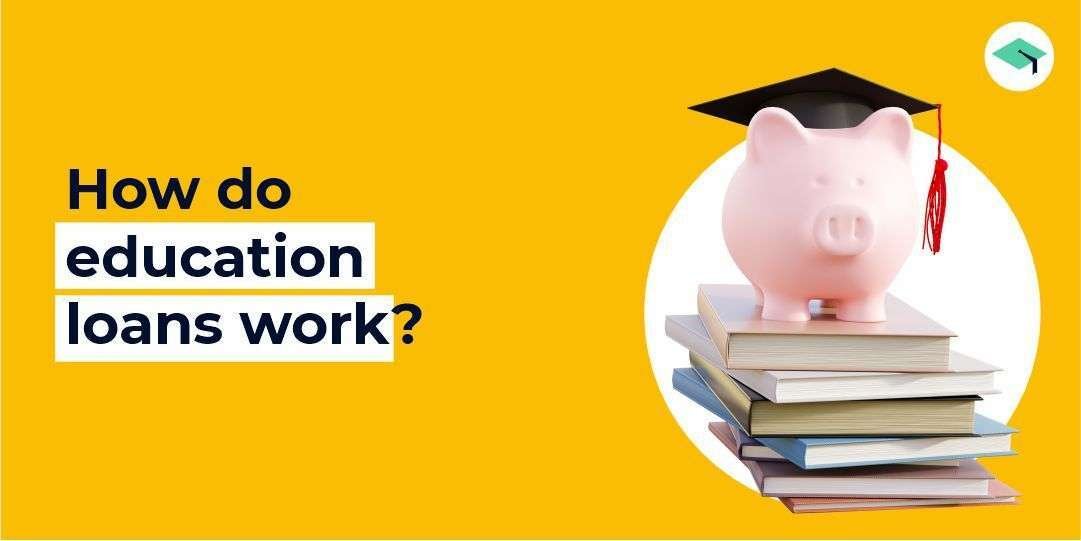 What is an Education Loan & How does it work?
Business Insider says, "The average expenditure on a child in India is ₹8,331 per annum. The average fee for enrolling in a professional course for higher studies can go above the ₹72,000 mark."
According to Yourmoney.com, "Around 65% of parents set money aside for their children's education once they turn 3". But despite efforts to ensure long-term investments in Fixed Deposits (FD), Mutual Funds, Gold, and insurance plans, they seek ways to bridge the small amount required.
With parents striving to ensure quality education in India for their kids, it is essential to know about education loans.
Here's your guide to understanding how education loans work
What does an education loan imply?
An education loan is an offering that banks provide to guardians to fund a child's secondary and higher education requirements. Different banks and government institutes offer education loans at other criteria and interest rates. An education loan is of 2 types – Domestic and Overseas.
General eligibility criteria for education loans in India
Education loan eligibility criteria
You must be a citizen of India
The age limit must be 18-35
The child must have a solid academic record
The child must ensure a confirmed admission receipt from the respective educational institution in India
They must be undergoing a post-graduation/ graduation/ diploma
The institution must share the UGC or AICTE affiliation
Students pursuing a full-time graduation course must have a co-signer on loan.
NOTE: These criteria may or may not vary depending upon the bank offering these loans. You are advised to check the specific eligibility criteria for the education loan you are interested in.
What all does an education loan cover?
It covers the following costs:
Tuition fee
Hostel fees
Stationary
Exam fees
Library fee
Books fee
Educational trips
Documents required to get a quick education loan approval in India
Seeking approval from a lender is easy if you meet the document requirements without fault.
Documents required:
Accurately-filled loan application form
A recent photograph of the student
Age Proof (Aadhar Card, Identity proof, voter ID card)
Address Proof
Admission proof (Admission letter)
Marksheet (10th/12th/graduation/GRE/TOEFL/IELTS, whichever is applicable)
Income proof of the co-signer on loan. He can be a guardian/parent.
Bank statements (Last six months)
Previous two years' income tax returns along with income computation
Audited balances sheet for previous two years
Proof of yearly revenue/salary receipts
Documents of assets for collateral requirements on the loan
Read more: Pay of education loan
How does an education loan work?
An application process may vary from bank to bank. However, here is the general way an education loan works:
Step 1 – Explore the interest rates from different banks
Check the factors below before applying:
Total costs over EMI (Equated Monthly Instalments)
Repayment period
Money margin: It is an upfront cost to pay on a loan. If the loan exceeds 4Lakh, the lender exempts the margin.
Check the bank's partnership with NBFC (Non-Banking Financial Companies)
Check the tax deductions you may qualify for under Section 80 E of the income act. It is a tax deduction on education loans for higher education. A taxpayer applying for a child's education abroad can qualify.
Guarantor or collateral over the loan
Step 2- Fill out the loan application
After choosing the bank to partner with and checking the terms, fill out the loan application. Check whether or not the banks provide loans for a particular course. Always check the loans for the periods before applying. Banks offer loans for both parts and full-time education.
Fill out and submit the application form with the documents mentioned below:
Passport size photographs (2)
Graduation, secondary or higher secondary Marksheets
KYC documents (Voter ID, PAN card) ID address
Age proof
Signature proof
Guardians/Parent's income proof
Documentation of immovable property
You can file for a loan either online or offline as per your convenience
Step 3 – Confirm the loan sanction
After meeting the requirements and attesting the required documents, you will receive a mail detailing the loan terms and elements. Read carefully before signing. If applying for a secured education loan, the lender may ask you to provide collateral details.
Read more: How to avoid education loans?
How does an Education loan repayment work?
After the loan sanction, the bank provides a memorandum period. It is a defined payment gap in the loan tenure until which a borrower is not liable to pay any repayments towards the loan.
Banks generally provide a 6-12 months of memorandum period. However, education loans have competitive interest rates. Talk with your lender and begin your repayments early.
If the lender agrees, you can improve your credit score by paying off the loan early. Enquire for pre-payment loan fee (if any). Do so only if not availing of tax deductions (Section 80E) on loan.
Else, qualifying for tax deductions, in this case, stands next to null. It is known as an auto-deduction loan.
Repayments vary from bank to bank according to the loan amount availed. If unmanageable, you can set up an auto-debit system to make monthly payments towards the loan.
Conclusion
Finding a low-interest and non-collateral educational loan is tasking. Edufund eases the process for you by filtering out the best loan options from multiple banks and NBFC partners. Contact us for more details.
Consult an expert advisor to get the right plan