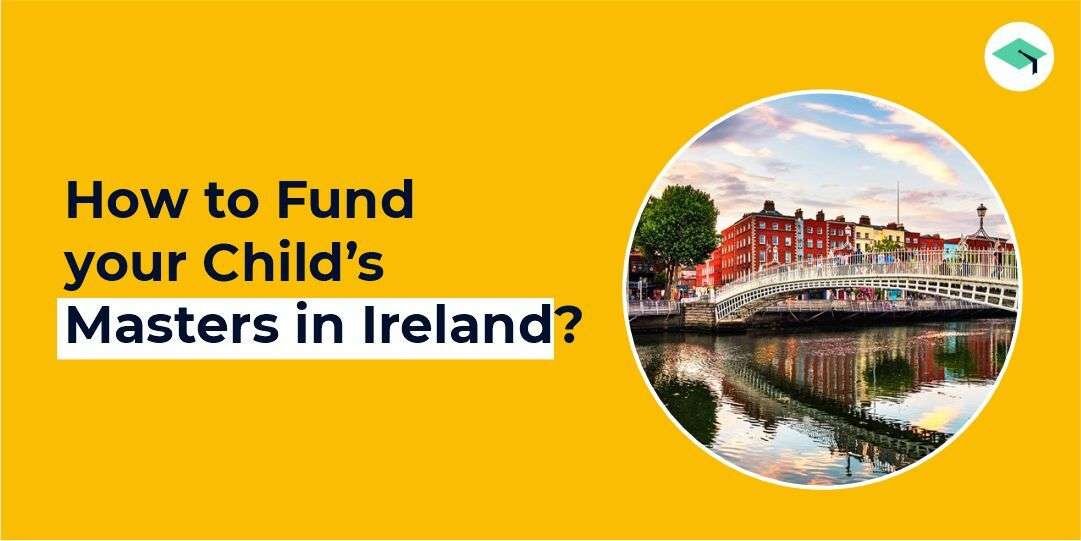 8 Ways to fund child's masters in Ireland
Ireland is a preferred destination for international students as it offers easy access to quality education and job openings post-study.
Sending your child for a master's in Ireland is a dream come true for parents as it opens numerous doors of opportunities in both, personal and professional lives.
The globally recognized universities maintain international standards and thus attract lots of students from all over the world.
It is a fact that nearly 35,000+ students are currently enrolled in Ireland universities and colleges and the majority are studying for their master's degrees.
Studying abroad requires a lot of money and parents often are in a dilemma about how to arrange the required funding for their child's master's in Ireland.
Let us discuss the length and cost of the degree and some simple and effective ways of arranging the required funds.
Master's degree in Ireland
The master's degree takes at least one year of study to complete but some of them, especially the research-based programs, last even for up to two years.
EEA and EU Students are expected to pay €4,400 to €10,000/year but the fees for subjects like medicine and business range from €20,000 to €30,000/year.
Other international students are expected to pay between €9,950 – €34,500/per year.
Steps to fund child's masters in Ireland
1. Personal savings
Some parents start investing in their child's education quite early and have a decent amount of savings that can be used to fund the master's degree in Ireland.
Sometimes, students have a work experience of a few years and they manage to save some money that can be used partly to fund their education.
2. Parental sponsorship
If parents are the education sponsors of a child then parental sponsorship is accepted in Ireland as valid financial aid. The students need to submit the necessary documents that will prove parental income.
3. Education loan
An education loan is one of the best ways of arranging the funds for studying abroad, especially if the student does not have the support of his parent's income, scholarship, or grant.
It is available through financial institutions like banks or private lenders.
The Edufund App helps Indian parents to plan, save, pay and arrange for education loans so that their child can complete their education and fulfill all their dreams.
4. Scholarships and fellowships
Several scholarships and fellowships are available as financial aid for a master's degree in Ireland. The amount of scholarships often covers 100% of tuition fees and a large part of living expenses.
Students can apply for university scholarships or government scholarships. But it is important to conduct thorough research beforehand to know about the applicable terms and conditions in detail.
Some of the popular scholarships and fellowships for international students are
Government of Ireland International Education Scholarship
Government of Ireland Postgraduate Scholarship Programme
Irish Aid Fellowships
The Walsh Fellowship
Additional read: How to fund child's masters in Dubai?
5. Grants and bursaries
Several universities offer grants and bursaries to eligible students who are interested in pursuing masters in Ireland. Parents can arrange the necessary funds for their child's education through these financial aids.
6. Fee waivers
Individual universities offer reduced or free tuition fees to students who are excellent at their studies.
Students can apply for a fee waiver if they meet all the eligibility criteria as it is an important means to arrange the necessary funds for a master's degree in Ireland.
7. Part-time jobs
International students in Ireland are allowed to work up to 20 hours every week during their semester. Part-time jobs are a vital source of funding to meet some of their related expenses effectively.
Moreover, some students manage to find work in the same field as their ongoing studies and this helps them to gain work experience for future reference.
8. Professional consultants
Some parents find it difficult to plan for their child's education, especially if they want to go abroad. In such times, professional counseling becomes a necessary tool to conduct thorough research and come up with a feasible plan.
The professional consultants associated with the Edufund App can help create a financial plan to fund your child's masters in Ireland.
This includes saving for expenses in the right way or borrowing funds from the best possible institutions at minimum interest rates.
Conclusion
The excellent education system and numerous choices in all subject areas make the country an excellent destination for students who want to pursue their masters in Ireland.
The cherry on the pie is the partnerships between educational institutions and the various industries and firms that open doors for job opportunities post-study.
Consult an expert advisor to get the right plan