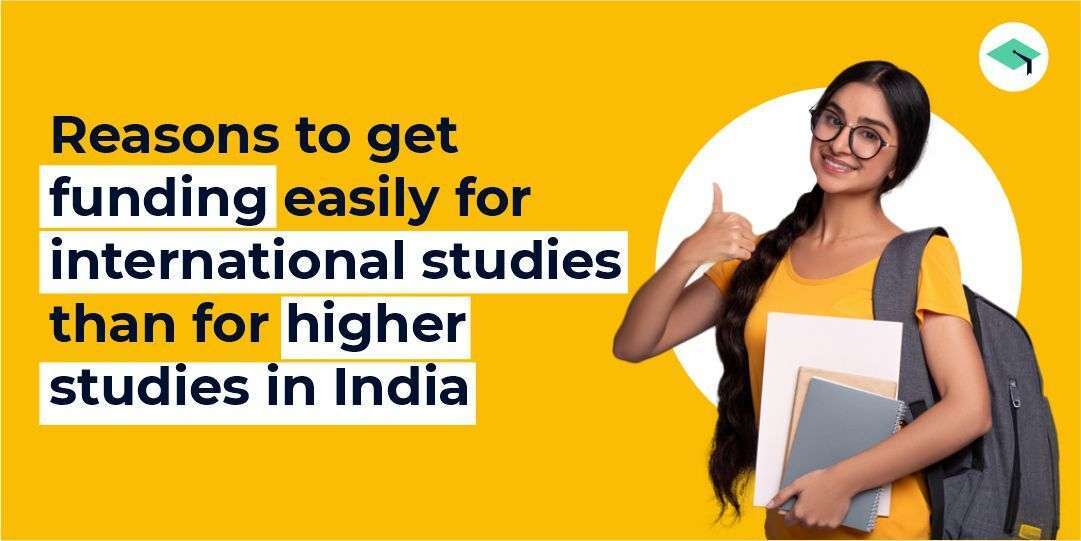 Is it easier to get funding for international studies than for higher studies in India?
Getting a loan for higher studies comes with a set of challenges and requirements. Whether your child is planning to pursue higher education in India from a premium institute or pursue international studies overseas, you are looking at spending anywhere from Rs. 15 – 20 lakhs in India to almost Rs. 70-80 lakhs overseas.
Recent reports released by the Ministry of External Affairs reveal that over 1.1 million Indian students are currently studying abroad as of 2021.
Industry experts estimate this number will rise to around 1.8 million for higher education overseas in 2024. This would approximate a student spend of USD 80 million per year.
With so many students traveling overseas and spending such large sums of money, the business of funding students for overseas education has been growing rapidly in recent years.
Parents often find it easier to avail of education loans overseas than to fund their children's education in premium institutes here in India. Let us look at a few reasons for this:
1. International universities are keen to have Indian students
As the monies involved are considerably large, international universities take a huge interest in having Indian students come to their campus.
With this in mind, several universities tie up with lenders and offer a host of flexible options (scholarships, grants, or financial aid) to make it easier for students to avail of education loans.
2. Sheer numbers mean more interested lenders
Given the pace at which the number of Indian students traveling abroad for studies is growing, the industry has become immensely profitable. This has encouraged many private players to enter the education loans markets, with some interesting products.
This gives parents a choice beyond the Indian Public Sector banks that are fairly rigid when it comes to the reputation of the institute, collateral, payback terms, etc.
Many students who are rejected for loans by public sector banks, approach these private lenders and obtain the loans they need to pursue their dream careers.
3. Parents can opt for international lenders
Apart from banks and NBFCs in India, if your child plans to take up higher studies abroad, you can look at approaching international lenders. Their rules are different for eligibility and necessary collaterals, etc. Making it easier for Indian parents to access the funds.
4. International universities help students avail of loans from lenders in their own countries
This works as a blessing for the parents. If the student is unable to organize funds from India, some universities can put applicants in touch with lenders in their own country. The only hitch here is that the loan is in foreign currency, and is subject to international currency fluctuations.
5. Need and merit-based scholarships
Several scholarships are available for Indian students planning to study abroad. Parents must start checking out the eligibility for these scholarships well in advance.
Read more: Can you fund your child's education with FD savings?
Things to keep in mind when a child is applying for financial support for higher studies
Choose a reputed university: While Tier II or III universities in low-cost countries may work out cheaper, you will find it difficult to get loan sanctions for such universities. Most public sector banks offer loans only for select international institutions, which are among the leading names in the country.
Manage to raise some funds from your own kitty: If you can manage to put in about 40 – 50% of the total corpus required, it stands you in good stead with several international lenders. They see this as a sign of surety and timely payback in the future, towards their own loans. Further, having your corpus will mean a smaller loan and a shorter payback time.
Maintain a good credit score: This is an important aspect of loan sanctions for international studies. While in India, the awareness around personal credit scores is still low, international lenders put a lot of weight-age on credit scores. Your loan approvals and amounts sanctioned are determined by your credit rating in the financials market.
Keep your documents updated: All lenders will take into consideration the previous year's financial statements, tax statements, and so on. Parents planning to take education loans must keep these papers ready for perusal at all times and must maintain good financial health to be eligible for loans.
All in all, it is easier to avail of education loans for international studies than to get one for courses in India, as the number of lenders is less for Indian education loans. make sure you plan well and start building your corpus early on.
Keeping your loan to a minimum will ensure your child is not burdened with repayment as soon as college is over. That is no way to start living life as an adult!
Consult an expert advisor to get the right plan