What is a healthcare ETF? All you need to know
If you want to invest in healthcare, buying a healthcare ETF is the easiest way to get started without studying individual firms.
Healthcare ETFs invest in a diversified portfolio of stocks from firms that provide medical services, manufacture medical equipment, and medications, provide medical insurance, or help patients access healthcare.
United Health Group Inc. (UNH), Pfizer Inc. (PFE), and Merck & Co. Inc. are three significant healthcare businesses.
The healthcare industry is noncyclical since most medical services and goods are essential rather than discretionary expenditures.
Why should you invest in the Healthcare Industry?
Healthcare has a lot of room for expansion. As individuals live much longer than before, medicine faces a slew of diseases to combat, including cancer, heart disease, Alzheimer's disease, stroke, and various other ailments.
This also includes combating new-age diseases like COVID-19 and illnesses that have yet to be discovered. In addition, healthcare spending in the United States has been above-planned expenditure.
According to Peterson-Health KFF's System Tracker, medical spending per capita increased 3.7 per cent yearly from 2010 to 2019, compared with 3.4 per cent for the US economy. As a result, healthcare ETFs can be a good fit for a defensive portfolio.
You can acquire a broad spectrum of the healthcare sector or even narrower areas with a healthcare ETF. After evaluating your goals, find the group of stocks you want to own in either case.
Unlike buying individual companies, an ETF also provides diversity and helps in lowering your risks. Since the healthcare industry is broad, the division is possible into sub-sectors based on the kind of firms that operate within it.
Except for geared ETFs and funds with under $50 million in assets under management, the healthcare ETF universe consists of around 34 different ETFs that trade in the United States (AUM).
So, you can invest in healthcare in a variety of ways, and a healthcare ETF can offer exposure to some of the following sectors: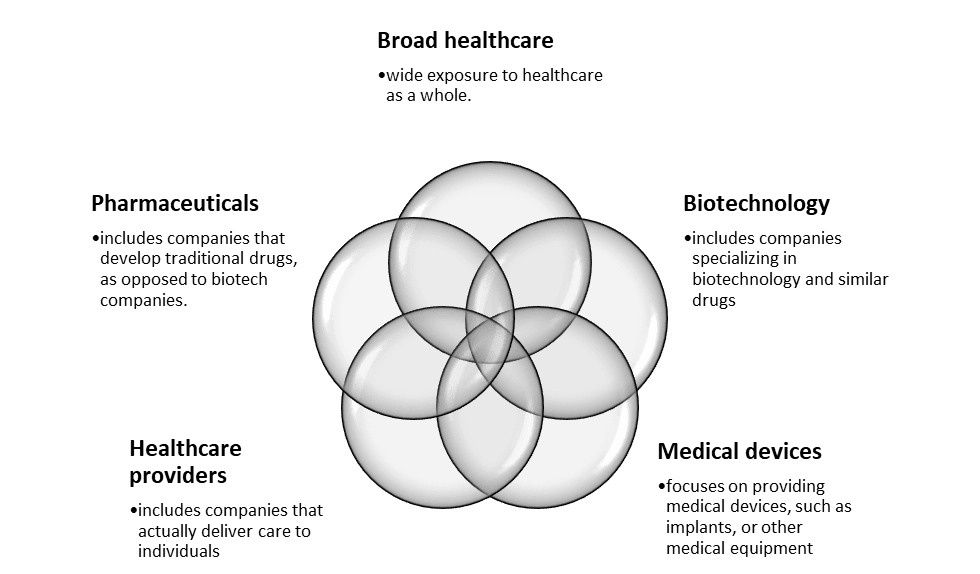 How to choose a healthcare ETF?
Here are some parameters to consider before selecting an ETF:
Sub-sector exposure
Track record of the ETF
Expense ratio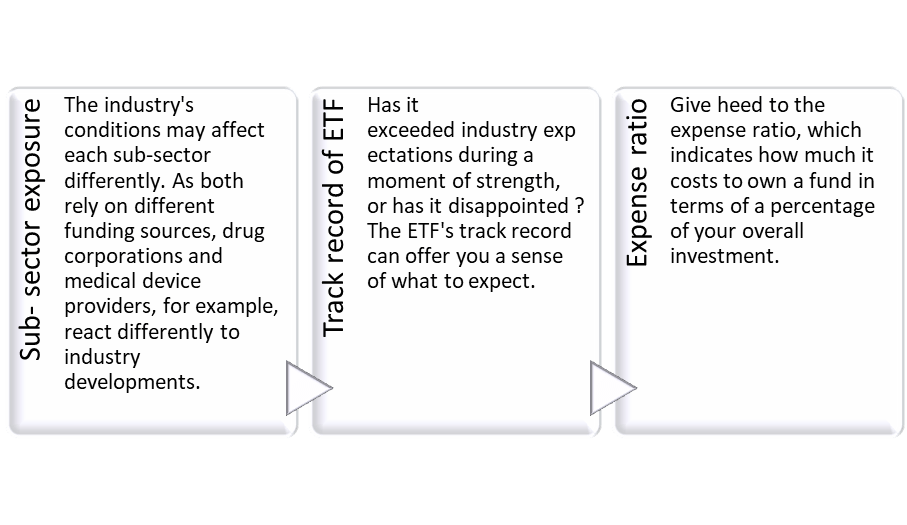 With $33.95 billion in assets, the Health Care Select Sector SPDR Fund XLV is the largest Healthcare ETF. The best-performing Healthcare ETF in the previous year was LABD, which returned 105.54 per cent.
The PSYK ETF PSYK was the most recent Healthcare ETF to be launched on 31 January 2022.
Top ETF performers according to etf.com.
| | | |
| --- | --- | --- |
| Ticker | Fund Name | Trailing 30-days price TR change |
| BIS | ProShares UltraShort NASDAQ Biotechnology | 7.14% |
| XHE | SPDR S&P Health Care Equipment ETF | 5.62% |
| XHS | SPDR S&P Health Care Services ETF | 3.36% |
| LABD | Direxion Daily S&P Biotech Bear 3X Shares | 3.27% |
| PSCH | Invesco S&P SmallCap Health Care ETF | 2.46% |
Bottom ETF performers, according to etf.com.
| | | |
| --- | --- | --- |
| Ticker | Fund Name | Trailing 30-days price TR change |
| LABU | Direxion Daily S&P Biotech Bull 3X Shares | -14.97% |
| PSIL | AdvisorShares Psychedelics ETF | -9.14% |
| PSY | Defiance Next Gen Altered Experience ETF | -8.24% |
| BIB | ProShares Ultra NASDAQ Biotechnology | -8.09% |
| CNCR | Loncar Cancer Immunotherapy ETF | -4.92% |
If you want to invest in healthcare, you have a few possibilities based on the sub-sector that you want to focus on. If you're unsure which one to buy, you can buy an ETF that tracks the entire industry and acquire overall exposure.
While you don't need to be an expert in investing in an ETF, some investors prefer to stick to diversified asset index funds, like those built on the S&P 500 index, leaving trading and fund selection to the professionals.
Consult an expert advisor to get the right plan for you