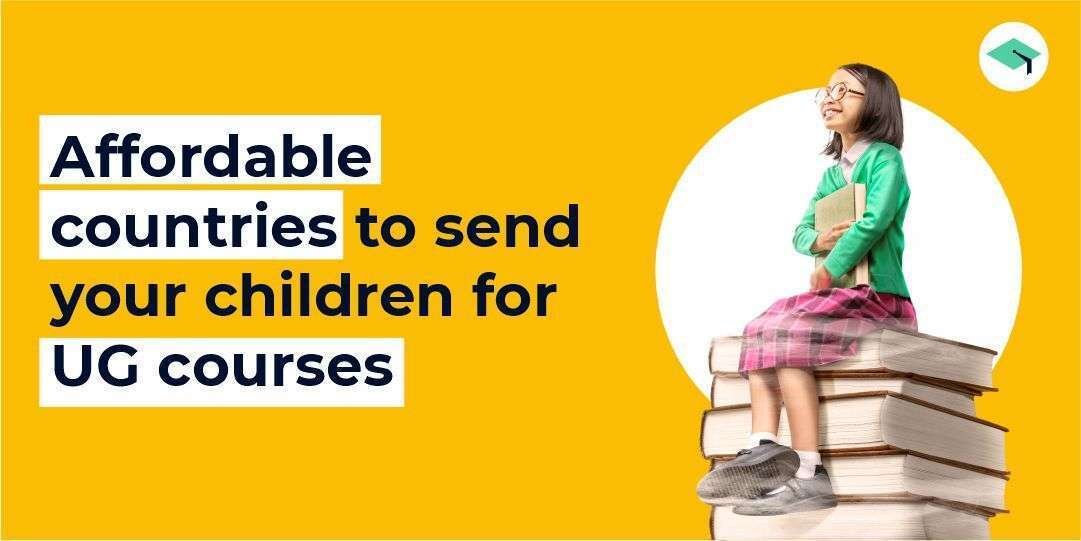 Here are affordable countries to send your children for UG courses
Every year, thousands of students wish to study abroad. The majority of those potential students have significant financial concerns.
After all, it is not at all cheap to send your child to study overseas. Not everybody is eligible for scholarships. Few people do not get education loans because of a lack of collateral or documentation.
Here, we'll explore the top and most affordable countries where you may send your child to study abroad and learn how much you need to save for your child's quality education.
Affordable countries for ug courses
1. Germany
Germany is well known for its prestigious universities. No matter their nationality, undergraduate students in Germany's public universities are required to pay zero or minimal tuition fees.
Study costs in Germany
At private colleges, the average annual cost of tuition may exceed EUR 3,000 (Rs. 2-3 lakhs). Your child can also opt for scholarships provided by private universities.
The monthly average living cost in this country is between 700 and 1000 EUR (Rs. 50,000 to Rs. 80,000). Students who purchase a semester ticket can use public transportation for no cost.
Germany offers discounts on student IDs for the theatre, museums, opera houses, cinemas, and other cultural organizations. Additionally, there are DAAD scholarships to help with living costs that your child can consider.
2. Switzerland
Switzerland has a total of 12 universities and fewer higher education institutions dedicated to science and research. Eight of these universities are listed in the QS World University Rankings, with ETH Zurich coming in at number 10 overall. The top 100 universities also include four of these institutions.
One of Europe's most beautiful countries, Switzerland is renowned for its research findings, high standard of living, and excellent educational system.
Study costs in Switzerland
The annual tuition at state universities ranges from 600 to 1000 EUR (Rs. 40,000 to 80,000). Private universities may charge anything between EUR 2,000 and EUR 16,000 (Rs. 2 to 12 lakhs) annually. The average monthly cost of living is between CHF 1,400 and 1,800 (2-3 lakhs)
3. Denmark
Despite only having 5.5 million people, Denmark is among the most promising nations in the world and punches beyond its weight in the field of education.
Denmark's inventive nature makes it an ideal location for your study abroad experience, in great portion because of a strong emphasis on research and top-notch education.
Danish higher education combines outstanding academic standards with learning strategies that encourage critical thinking, experimentation, and teamwork. Danish educational institutions are also very focused on practical education.
Study costs in Denmark
Tuition ranges from DKK 45,000 to DKK 120,000 per year. (Rs. 5 to 13 lakhs per annum). Monthly Living Expenses: DKK 6,000–DKK 10,000 (Rs. 60,000 to Rs 1 lakh)
Danish universities only get a small number of government scholarships every year to support exceptionally qualified foreign students. The government scholarship is divided into two components and can be awarded as grants to help with living expenses or as whole or partial waivers of tuition fees.
Read more: Saving tips for your adults
4. Spain
Spain's institutions possess a strong reputation abroad and offer top-notch education at an affordable price, making it a great option for Indian and international students. For international students, particularly Indian students, the cost of living is favorable, and Spain is thought to have the lowest tuition costs in Europe.
Study costs in Spain
Around 800 to 2500 EUR (Rs. 60,000 to 2 lakhs) in fees are charged for bachelor's programs every academic year. The annual tuition for private universities is more expensive and often double the cost of public schools.
On a student budget, the total monthly living expenses for international students range from 500 to 1000 EUR (Rs. 40,000 to Rs. 60,000).
5. Poland
With some of the oldest colleges in the world, Poland is renowned as an affordable European nation with a rich history and several major university degrees available in the English language.
Due to its affordable living expenses and other charges (such as food and transportation), it is one of the top educational destinations for Indian students.
Study costs in Poland
The average cost of a study program in Poland ranges from EUR 4,000 to EUR 7,000 (4-6 lakhs) per academic year. The solid economy of the affordable European nation explains why monthly living expenses for Indian students average range is 500 to 600 EUR (Rs. 50,000- 60,000).
Read more: Hidden college fees that you need to pay
6. Estonia
With a population of only 1.3 million, Estonia is a rather small nation. In comparison to other countries, they have a great quality education system that is also inexpensive for Indian students. The Estonian Universities stand out for offering 100+ degree programs that are entirely taught in English.
Study costs in Estonia
A bachelor's degree should typically cost from 1,000 to 8,000 EUR (Rs. 1 to 7 lakhs) annually. It will cost approximately 11,000- 12,000 EUR (9- 10 lakhs) per year to pursue a specialized degree, such as a medical degree.
International students can apply for scholarships, however, they are typically only for postgraduate studies. Monthly living expenses range from 500- 600 EUR (Rs. 50,000- 60,000).
If your child is exploring foreign universities for higher education but considering European countries is a must.
Future costs for studying abroad will rise up so calculate how much it will cost you in the future rather than relying on current price rates! Use our college cost calculator to figure out the cost of studying for UG courses.
Consult an expert advisor to get the right plan