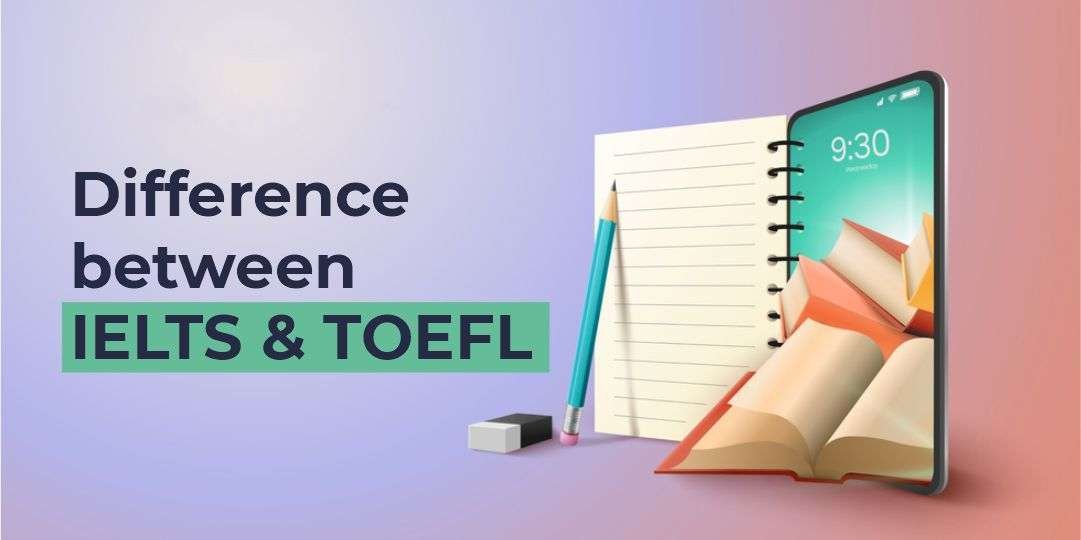 Differences between IELTS and TOEFL. All you need to know
Along with the GRE and GMAT exams, English proficiency exams like IELTS and TOEFL are essential for university applications to English-speaking countries.
Usually, all applicants having non-English speaking backgrounds have to report their IELTS/TOEFL scores to the university they apply to.
Difference between IELTS and TOEFL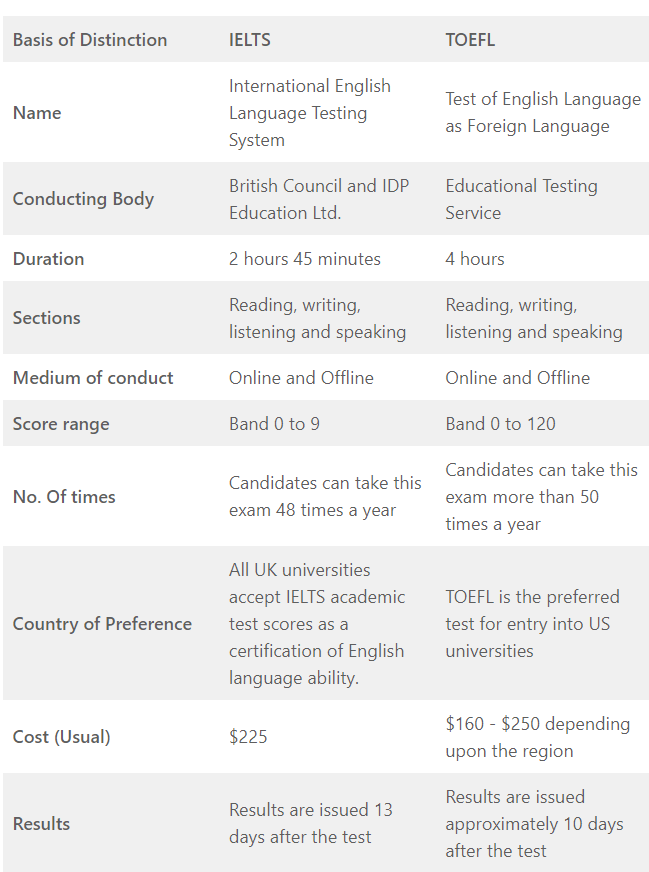 IELTS and TOEFL test format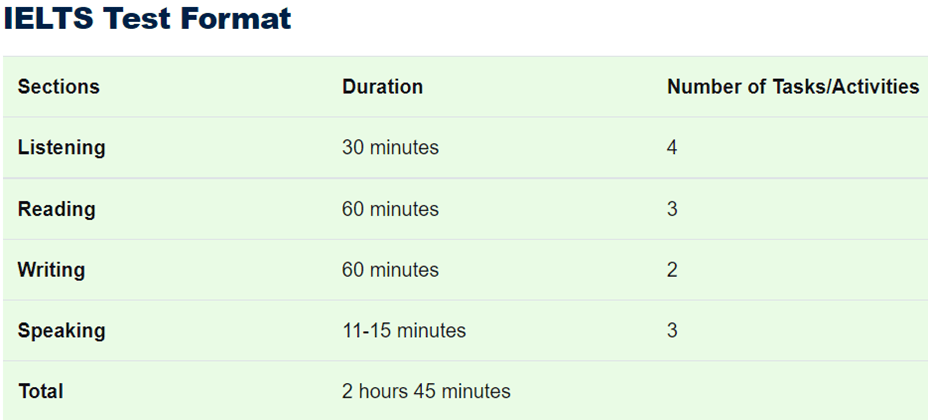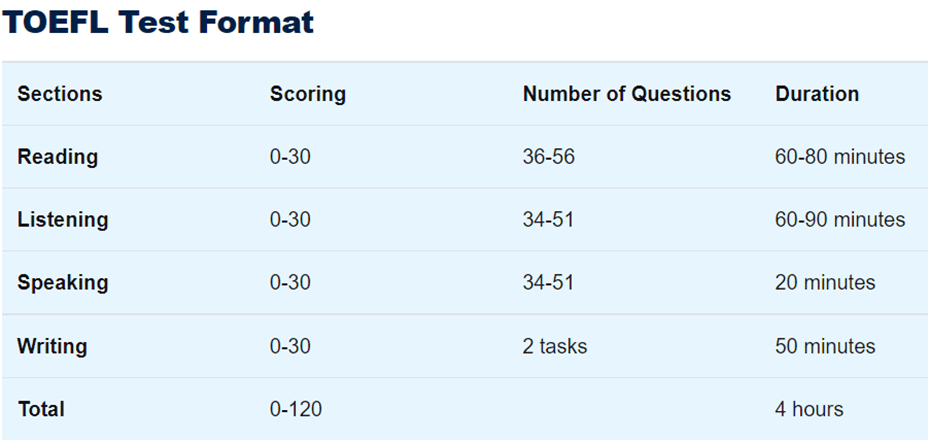 Difference between the exams of IELTS and TOEFL
1. IELTS and TOEFL: Writing section
In IELTS, students have to answer two writing questions
First question requires students to examine and explain a picture or a chart.
Second question, the student has to write 200-250 words on a given argument.
For the TOEFL,
First question's answer is a 5-paragraph essay.
In the second question, the students have to write notes (150-225 words) from a given text.
2. IELTS and TOEFL: Speaking section
The IELTS test is conducted face to face, for 10 – 15 minutes students need to talk at length about a familiar topic and answer questions.
In TOEFL, the duration of the section is 20 minutes the speaking assessment is recorded through a microphone, then sent to the examiners.
3. IELTS and TOEFL: Reading section
IELTS test includes three questions in this section, and the students have to answer questions in different formats like gap fillings, short answers, etc., after reading three long passages.
For TOEFL, the reading consists of 36-56 tasks based on reading academic texts and answering them through your lens of understanding.
4. IELTS and TOEFL: Listening section
In the listening section of IELTS, students will have to answer questions based on four monologues that will be played for them, whereas the TOEFL test will be on classroom lectures and applicants taking notes while listening to the audio.
Students have to solve MCQs in a given duration of 40-60 minutes in the TOEFL listening component.
What are the main differences between IELTS and TOEFL?
| | | |
| --- | --- | --- |
| Category | IELTS | TOEFL |
| Mode of Conducting | Computer-based exam Paper-based exam | Computer-based |
| Time duration | 2 hours, 45 mins | 4 hours |
| Types of Questions | Variety of questions | MCQs in reading and listening |
| Score chart | Scores are from 0-9 | Scores are from 0-120 |
| Accepted by | UK, Canada, New Zealand, Australia, etc | USA universities |
Which universities accept IELTS vs TOEFL?
IELTS exam score is accepted by around 9000 institutions and a lot of countries like the US, UK, Australia, Canada, and New Zealand.
TOEFL exam scores are accepted in more than 10,000 institutions and a lot of countries like the US, UK, Canada, Australia, New Zealand, France, and Germany.
Score Comparison
| | |
| --- | --- |
| IELTS | TOEFL |
| 9 | 118 – 120 |
| 8.5     | 115 – 117  |
| 8 | 110 – 114 |
| 7 | 94 -101 |
| 6.5 | 79 – 93  |
| 5.5 | 46 – 59 |
| 5  | 35 – 45  |
| 4.5   | 32 – 34 |
| 0 – 4 | 0-31 |
Major factors to consider
Check if the universities you want to go to accept IELTS or TOEFL because if don't then nothing else matters.
TOEFL is preferred in most American universities whereas IELTS is accepted in universities in other countries.
If your university accepts both tests then pick one which is more suitable for you as both tests are different. Such as TOEFL has MCQs while IELTS has varieties of questions.
TOEFL is a computer-based test while IELTS is a pen-paper test so if you prefer a computer because you can type faster or your handwriting is not that good then you can go for TOEFL.
The cost is different for both of the tests but depends on the exam location. 
Which exam should you take?
The above question depends on the country and the institute you want to study in. Some universities accept either of these tests with individual score requirements.
However, we recommend you think closely about the question types and formats that suit you and then decide. After the university's requirements, it boils down to your needs.
FAQs
What's the full form of TOEFL?

Test of English as a foreign language.
How many times can I give IELTS?

As many times as you like to.
Is 7 a good score for IELTS?

If you have scored 7, then 7 is definitely a good score.
Is TOEFL easier to pass?

In comparison to other tests, TOEFL is considered easier to pass.
Consult an expert advisor to get the right plan