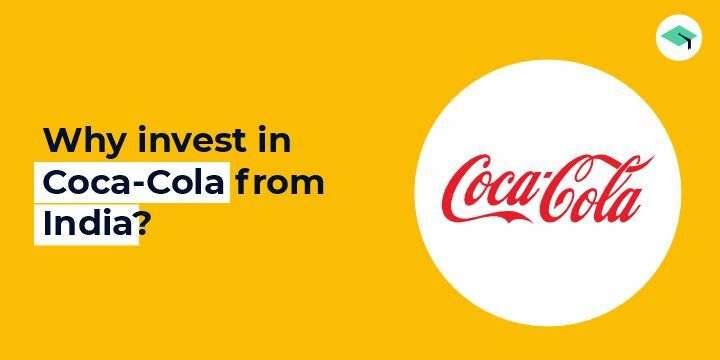 Why invest in coca-cola from India? All you need to know
As per Statista's findings, "Coca-Cola is one of the top companies in the world by the market capitalization". The name makes among the leading companies like – Apple, Alphabet, Tesla, and Amazon.
Market capitalization is a critical parameter considered in calculating a company's worth and the trading opportunities it presents. Coca-Cola is considered one of the biggest companies in the world as per the market value index 2022.
Having such a high market capital ratio and being well-known for its "formula", Coca-Cola shares opportunities for investors, particularly Indian.
However, many investors find it complicated to seek a way to invest the right way from India. Yes, you can invest in Coca-Cola stock from India. The blog states the best and easy ways to invest in Coca-Cola from India. 
Coca-Cola: One of the leading beverages Company in the World
Coca-Cola is a key beverage company in the world. Atlanta, Georgia, is the company's headquarters. Globally, it has 200 bottling partners.
Coca cola's net worth as per July 2022 statistics stands at $273.71 billion. There would be hardly any personality in the world who would fail to recognize the iconic letters describing the bottle. It is this aspect that captures the investor's attention.
To talk about its bottles, have undergone constant evolution since 1886. It is the year that marked the invention of the iconic brand. The taste soon got popular in the UK and the brand became the first to cross the annual £1 grocery sales.
What does the Coca-Cola market benefit the most from?
Coca-Cola is well known for manufacturing different beverages:
Beverage concentrates
Syrups
Sparkling soft drinks
Fruit drinks
Water
Sports drink
Juice
Plant-based drinks
Tea
Here is how its product segment contributes to the company's growth:
| | |
| --- | --- |
| Product Segment | Company contribution |
| Coca Cola | 17% |
| Diet Coke | 17% |
| Coke Zero, Sprite Zero | 14% |
| Powerade and other brands | 14% |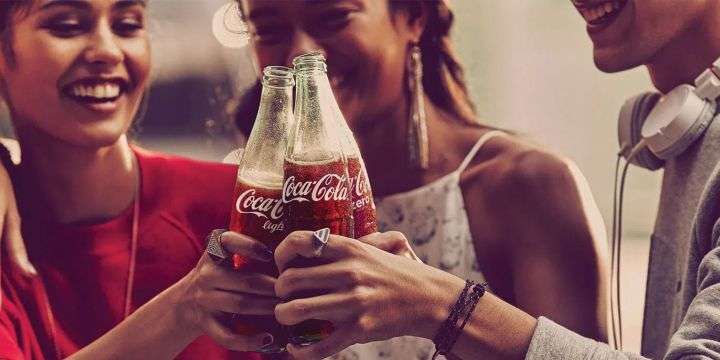 What are the main motivations to invest in Coca-Cola than Pepsi from India?
Here are some popular reasons to invest in Coca from India in 2022:
| | |
| --- | --- |
| Coca Cola Stock | PepsiCo Stock |
| Coca Cola cash stash of $17 billion accounts for 53% of stakeholder's equity | Pepsi Co's $9.5 billion accounts for 43% of stakeholders' equity. |
| It has a global market share of 8.4%. It shares greater pricing flexibility than Pepsi.co | It has a global market share of 3.6% |
| It has a no.1 market spot globally | PepsiCo has a grand presence |
| It deals only in Beverages | It deals in beverages and snacks |
Why does warren buffet love coca-cola so much?
Ever wondered why Warren Buffet's Berkshire Hathway owns a 400 million or 9.2% stake in the company?
According to Business Insider's statistics, Berkshire Hathway invested $1.3 billion investing in Coca-Cola. The price of Coca-Cola stock rose 2% in 2022. It is not it.
Here are other reasons Warren Buffet, the famous Angel investor, relies on Coca-Cola's future.
He believed it to be an undervalued brand being the biggest beverage industry dominator
The company launched fresh brands of juices, sports drinks, coffee, and bottled water in 1988. The annual revenue rose from $8.3 billion in 1988 to $38.7 billion in 2021
It buys back its stocks (major reason).
He deems it as a "FOREVER STOCK
Additional read: How to invest in Netflix from India?
What is the Coca-Cola company's share price in India in 2022?
As of 8th July 2022, the share price of Coca-Cola stands at ₹4.9k.
Is it ideal to invest in Coca-Cola from India in 2022?
Here are some popular reasons to invest in Coca-Cola from India in 2022:
The stock price of Coca-Cola has risen by 17% from 2021.
As per economic times, "Cola-Cola is to make "Maaza" a $ 1 billion brand by 2023."
Undoubtedly, the stock will rise in the upcoming times and subside any US inflation fears.
Additional read: How to invest in Google from India?
How to invest in Coca-Cola from India?
Coca-Cola owns popular brands like- Minute Maid, Fanta, Maaza, and Coke Zero. You can invest in Coca-Cola from India in multiple ways:
1. Direct investment in the US stock
You can invest in Coca-Cola from a brokerage account in India. It is an account that holds financial securities or securities either with a bank, broker or custodian. Investors and traders hold accounts with the respective broker and the bank. They buy and sell stocks through the security account.
To invest in Coca-Cola from India, you can open up a US brokerage account by choosing from multiple platforms available.
Or use a foreign brokerage sharing a direct presence in India.
2. Invest through ETF Funds
Another option through which you can invest in Coca-Cola is through ETF funds. An Exchange-Type Fund (ETF) is a pooled investment that works like a mutual fund. It tracks funds under index, commodity, asset, and sector.
It can be purchased and traded similarly to other stocks. ETF holds funds for different industries like- Household products, beverages, staples, food, etc. Some ETFs invest in US indexes. You can invest in Coca from India through ETFs of the US available in India.
4. Coca-Cola Mutual funds In India
It is one of the straightforward methods to invest in US Coca-Cola Stock. In this, you can invest in local mutual funds that share availability in the US.
One can invest in Indian Rupees. There are no restrictions to that. However, there may be a charge to invest in the stock from India. The fee is known as the Expense ratio.
These fees tend to be high. If you are a beginner investor, it might not be an ideal stock for you. It shares potential risks. However, the stock is performing well, but the fee makes investment costlier. Evaluate the risk appetite and invest in an informed manner.
As per the research, Coca-Cola stock is the stock of the "Future". It certainly holds the potential for an investor to multiply his wealth.
You can invest in Coca-Cola from India in the above-mentioned ways. Keep a check on the market fluctuation, fees, and risks. Are you ready to invest in Coca-Cola?
Consult an expert advisor to get the right plan for you