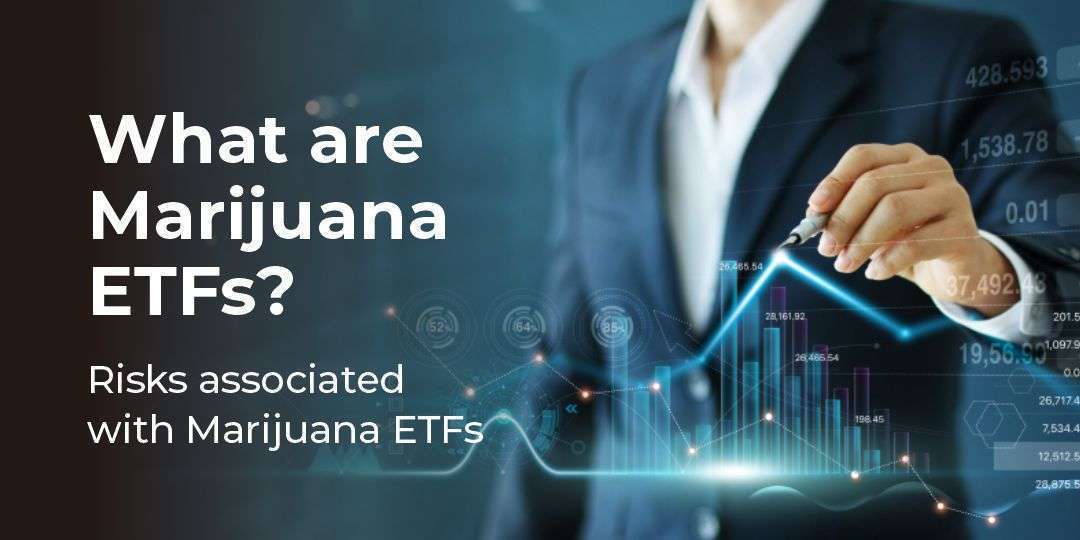 What are Marijuana ETFs? All you need to know about
Marijuana has many nicknames, including weed, M.J., herb, cannabis, and other slang phrases. It's Cannabis Sativa's dried green or grey blooms.
The substance's major psychoactive component is tetrahydrocannabinol (THC), which causes people to experience a mind-altering condition when eaten. Cannabidiol (CBD), the second most crucial ingredient in marijuana, has helped treat pain, anxiety, and other ailments.
Marijuana ETFs are a relatively new and rapidly-growing segment of the ETF market. Marijuana ETFs rarely invest in local pharmacies or small-scale farmers. Cannabis ETFs, on the other hand, are more likely to invest in Pharma and Biotech companies that are conducting advanced research into clinical uses for cannabinoids.
They also like to augment their cannabis portfolio with firms that support the nascent marijuana market, such as fertilizers and alcohol and cigarette corporations that have invested heavily in potential marijuana revenue streams.
For instance, the ETFMG Alternative Harvest ETF (arguably the biggest marijuana ETF in terms of AUM) invests in a wide range of marijuana-related companies, including:
G.W. Pharmaceuticals is a pharmaceutical company based in London (cannabinoid-focused medicine).
Cronos Group is a multinational conglomerate based in (production and distribution).
Canopy Growth Corporation is a publicly-traded company based in Vancouver, British Columbia (research and product development).
Aurora Cannabis is a cannabis company based in Canada (product development and production).
Even though marijuana remains illegal under federal law, more than half of the states have approved medicinal marijuana, and eight states have legalized recreational marijuana, including California.
Most marijuana ETF issuers, on the other hand, go to great lengths to ensure that their funds only invest in companies that are either federally authorized or based in other locations, such as Canada.
Still, if the US Justice Department follows through on promises to pursue marijuana businesses that are legal in their home states, pot ETFs may face enormous legal risk.
The perils of Marijuana ETFs
Investing in cannabis, including cannabis ETFs, is fraught with danger. Regulatory uncertainties, funding challenges, and the sheer unpredictability of marketing strategies and operations could all change the future landscape, and thus the valuation of marijuana stocks and ETFs, dramatically and quickly.
1. Regulation
While recreational marijuana use and storage are now legal in some states (and medicinal cannabis use is legal even more), marijuana remains a Schedule 1 drug in the federal government's perspective.
This classification, which places marijuana alongside heroin, ecstasy, and LSD, implies that it has little medical use and is often used in the wrong ways.
This classification may result in legal ambiguity across state and federal regulations.
2. Unpredictability
Since its establishment in 2015, the U.S. Marijuana Index, which measures its largest cannabis companies, has seen both highs and lows. The index's 52-week high is 105.19, and its 52-week low is 19.91 as of July 7.
Marijuana ETFs have a total AUM of $1.94 billion, with 9 ETFs trading on U.S. exchanges. The expense ratio equals 0.71 per cent on average. Equity is the underlying asset of marijuana ETFs.
The Advisor Shares Pure U.S. Cannabis ETF MSOS is the largest marijuana ETF, with $943.83 million in assets. PSDN, the finest performing Marijuana ETF in the previous year, was the Advisor Shares Poseidon Dynamic Cannabis ETF PSDN was the most recent ETF to launch in the marijuana market on 11/16/21.
Here are the 9 Marijuana ETFs ranked based on their AUM from highest to lowest
| | | | | | | |
| --- | --- | --- | --- | --- | --- | --- |
| Ticker | Fund Name | Issuer | AUM | Expense Ratio | 3-Mo TR | Segment |
| MSOS | AdvisorShares Pure US Cannabis ETF | AdvisorShares | $943.83M | 0.73% | -22.75% | Equity: U.S. Cannabis |
| MJ | ETFMG Alternative Harvest ETF | ETFMG | $632.63M | 0.75% | -18.09% | Equity: Global Cannabis |
| YOLO | AdvisorShares Pure Cannabis ETF | AdvisorShares | $134.25M | 0.76% | -26.87% | Equity: Global Cannabis |
| POTX | Global X Cannabis ETF | Mirae Asset Global Investments Co., Ltd. | $76.85M | 0.51% | -27.38% | Equity: Developed Markets Cannabis |
| CNBS | Amplify Seymour Cannabis ETF | Amplify Investments | $65.73M | 0.75% | -23.30% | Equity: Global Cannabis |
| THCX | The Cannabis ETF | OBP Capital LLC | $55.13M | 0.75% | -26.96% | Equity: North America Cannabis |
| TOKE | Cambria Cannabis ETF | Cambria | $21.82M | 0.42% | -8.73% | Equity: Global Cannabis |
| PSDN | AdvisorShares Poseidon Dynamic Cannabis ETF | AdvisorShares | $8.24M | 0.92% | -27.61% | Leveraged Equity: Global Cannabis |
| BUDX | Cannabis Growth ETF | Banhazl | $3.22M | 0.79% | -27.10% | Equity: Global Cannabis |
Alternative index funds and ETFs are better suited for beginning investors or those seeking predictability.
If you can digest the unpredictability of an unpredictable market in return for receiving it at a very early stage and your investment is well-diversified and healthy, cannabis ETFs could be a good fit for you.
Consult our Expert ETFs advisor to get the right plan for you