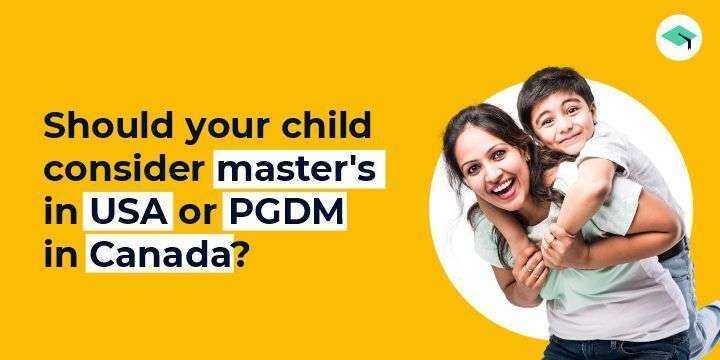 Which one is better? Master's or PGDM in Canada vs the USA
Over the past few years, several countries have emerged as the best destination to pursue higher studies. Among the top ones you have are the USA and Canada.
Whether you are planning to send your child to the USA to study master's or to Canada for PGDM, it only makes sense to first evaluate all the factors in a planned manner. These courses can be expensive, and if you don't have much savings for your child's education, perhaps it's not too late.
Families in Tier 1 cities spend, on average, Rs 43,000 per year on their child's education, whereas Tier 4 city families, on average, pay Rs 29,000 per year. So, it only makes sense to start saving earlier to meet the rising educational expense.
Invest in savings schemes for child's education
An MBA course's tuition prices have an average 5-year annualized inflation rate of 10%, engineering courses at 9%, and MBBS at 12%.
Additionally, one has to save money for extra expenditures outside tuition fees, such as rent for a dorm or private apartment, books, study tools, and other things.
Given the increasing cost of education, it is a good idea to start saving for your child's higher studies even before they complete high school.
The smartest step would be to invest in various schemes like a mutual fund, Exchange-traded fund (ETFs), Systematic Investment Plan (SIP), etc., that can offer you a high return on investments by the time your child completes high school. You can even take education loans, but only if you are certain about the repayment procedure.
Additional read: Cost of school education in India?
Benefits of SIP for child's education
The expense of schooling grew annually between 2008 and 2014, as shown by a study from the NSSO (National Sample Survey Organization).
However, throughout the same time span, the per capita income only grew by 2.49 times, creating a disparity.
The ideal option is to establish a systematic investment plan (SIP) for equities mutual funds as soon as possible to maximize the benefits of compounding.
Additional read: How education inflation can hurt your child future?
How can mutual funds benefit you when saving for educational expenses?
A mutual fund is a type of investment that can assist you in setting aside money for your child's education. Mutual funds may be an efficient tool for future planning for your children.
Moreover, you have numerous funds to choose from based on your requirements, risk appetite, and time horizon.
For many parents, the growing expense of schooling has become a source of worry. Today, a child's elementary education might cost anywhere from Rs. 60,000 to Rs. 3 lakhs each year.
The costs associated with higher education in such a situation may be unimaginable. As a parent, you must put money into financial investments to yield the required returns given the rising school expense.
Child ULIPs
To ensure the kid receives the appropriate amount at the appropriate age, one may even consider investing through child (Unit Linked Insurance Plan) ULIPs with the waiver of the premium feature.
Invest in the kid ULIP equities fund choice to gain the most over the long run.
Make sure you have enough life insurance as a parent, preferably through a pure term insurance plan, so any unexpected events won't interfere with your children's requirements.
Triple benefits are offered by ULIP-based child plans: the insurance company will pay future premiums in the event of a parent's passing, the family will receive a monthly income to help with the child's education costs, and the family will also receive a lump sum payment to help with living expenses.
Due to this, ULIPs are a well-liked investment to safeguard the future of the youngster.
Under Sections 10(10D) and 80C, respectively, of the Indian Income Tax Act, 1961, policyholders may also benefit from ULIP returns that are tax-free as well as exemptions on premiums paid to maintain the policy's active status.
Studying MBA in the USA or PGDM in Canada?
Benefits of studying for an MBA in the USA:
Increased possibility for lifelong income.
Increased likelihood of employment and employability.
Professionally connect with the top talent in the field.
Become more knowledgeable and broaden your horizons.
Develop strategic leadership abilities for large corporations.
Expenses: For premier colleges, Indian students' MBA tuition in the USA can range from 50,000 to 1,000,000 INR.
Cons:
Studying for an MBA abroad has various drawbacks, such as the expense or being unable to apply for employment.
Students may find it more difficult than they anticipated to get visas or work permits for their studies abroad, which might force them to leave the nation quickly after graduation with little time for adjustment.
Benefits of studying PGDM in Canada:
In Canada, PGDM programs are less focused on research and more job-oriented. Many MNCs are headquartered in Canada, which also has a low unemployment rate of 6.5 percent.
While doing the course, students might complete an internship to get experience in the real world. Canada promotes the option of staying behind after graduation.
To add to this, getting a student VISA for Indian students is much easier in Canada compared to the USA.
Costs:
Comparatively speaking, Canadian PGDM courses are less costly than those offered in the US and other nations. PGDM programs typically cost between 15,000 and 17,000 CAD (8,00,000 INR-9,05,000 INR approx.)
Cons:
Tuition fees and living costs are too expensive.
Conclusion
Finally, if you are unsure about the college costs in the USA and Canada, you can check them using EduFund's College Cost Calculator.
It will give you an idea of the expenses so you can start looking for appropriate savings schemes. It is better not just to depend on education loans when planning to send your child to the USA or Canada to pursue higher studies.
Consult an expert advisor to get the right plan