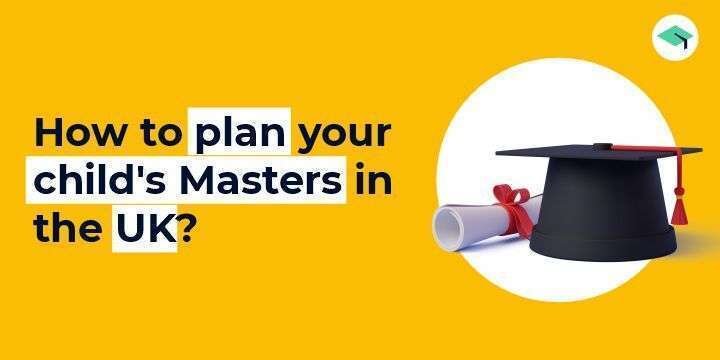 How to plan your child's Master's in the UK?
Indians flock to top universities of the UK like Oxford University, Cambridge University, University College London, Edinburg University, King's College London, etc.
Over 84 UK universities are listed in the QS World University Rankings 2021, each providing a distinctive experience with committed teachers, vast facilities, and practical resources.
It's no wonder, the UK is one of the most sought-after destinations for studying abroad for Indian students. Let's find out how you can plan your child's masters in the UK with them.
What is the cost of studying in the UK?
It's crucial to be realistic about the costs of studying in the UK, especially if you're going to pay for it. You'll need to factor in their living expenses and tuition.
As of 2022-2023, the cost of a master's degree in any field in the UK can cost somewhere between ₹40-90 lakh. For instance, Oxford University costs about ₹50-60 lakh, Cambridge University ₹60-65 lakh, and Manchester University costs around ₹40-45 lakh.
There are options for outside funding options like grants and scholarships. Also, keep an eye on deadlines because your child might need to submit a personal statement or a sample of their work for some scholarships, which require an early application.
These options may lessen the expense but may not be enough to cover the entire cost of attendance such as living expenses and accommodation.
Living expenses in the UK
Living expenses are a very relative number, it depends on the kind of lifestyle and expenses one wants to have, whether they want to live luxuriously or on a budget. This also depends on the affordability of the student as well as their parents.
Now, the average living expense of a Master's student in the UK is somewhere around ₹30-40 lakh throughout the degree.
Your child can cover up part of the fees by working part-time jobs while attending school. But be mindful of their visa limitations that will cap the number of hours they can work.
Additional read: Can you really do an MBA in the UK for under 25 lakhs?
How to save for these costs?
There are a few long-term as well as short-term ways to help you save for your child's Masters in the UK.
One simple way is to divide the total amount, which suppose is ₹1 crore, and put aside around ₹40,000 per month or about ₹4.5 lakh every year for 18 years and start saving when your child is young.
Invest your money, either for 18 full years or even a shorter time. SIPs can bring you incredible returns in 18 years if you keep investing for the future.
The last and tougher option is to take an education loan at the time of application and pay it back after. Now that's not an ideal option because of the high-interest rates.
The application process for the UK
1. Solid undergraduate degree or related work experience
UK universities prefer candidates for master's programs to have a strong undergraduate degree, ideally in a related or relevant field. However, some courses, especially those that are more artistic, like art, may call for the submission of a portfolio. Others might need to be interviewed.
Because of the pandemic's impact on university operations, interviews are now far more likely to take place online, which is extremely cost-effective for international students.
2. English proficiency test
A solid command of the English language is another prerequisite for master's studies in the UK. Your child will need to pass an English language exam, such as the TOEFL or the IELTS. Check which exams and at what level the universities accept.
3. The application procedure differs for each university
Every university in the UK has a very different application procedure for master's degrees. The deadlines for applications may vary greatly.
For more information on the deadlines for the universities, your child is applying to, visit their websites or consult an expert to help them shortlist or understand the different requirements of studying abroad.
Some of the most prestigious universities will need applications to be submitted fairly early in November, while others may accept applications through the summer if there are still openings. Some applications might not even have a deadline, but it's best to submit them early because the course may fill up.
4. Recommendations are integral
Most colleges will want recommendations. These will often be two professors or other academic advisors from your child's prior course.
You might also want to provide a reference for your job. You must ensure that the people you are proposing are willing to do so and can do so by any deadlines.
5. Customize your statement of purpose for every university
Make sure your child's statement of purpose has been customized for each institution they are applying to. Make them justify why their experience is perfect for the particular course the institution is offering.
6. Emphasize any prior relevant experience
It is important to emphasize in the application, any work experience that is relevant to the course or they should emphasize their transferable skills if the master's program they are applying for is entirely unrelated to their prior education or professional experience.
Home to some of the best universities in the world coupled with its new post-study work visa, the UK is fast becoming one number country for higher education.
While you can't reduce the cost of studying for a master's in the UK, you help your child pay for it when the right arrives! Start saving to give wings to your child's masters!
Consult an expert advisor to get the right plan