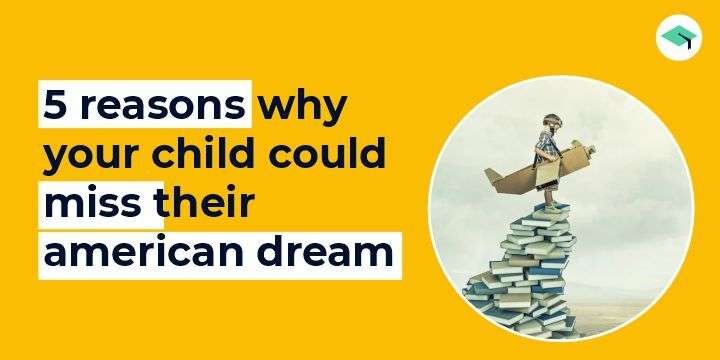 5 reasons why your child could miss their American dream
According to an Indian Government survey, 44% of Indian students wish to move to the USA for higher education. Good quality of education, better job opportunities, and a healthy lifestyle are some reasons behind this demand.
However, there are many obstacles like cost, limited seats, and competition.
5 reasons why your child could miss their American dream
1. Lack of funds and savings
Lack of funds is the top reason why your child could miss their American dream. The united states of America are home to some of the costliest universities in the whole world. Some of them are the University of Chicago, the University of Pennsylvania, tufts university, Harvey Mudd college, and so on.
The tuition fees of universities in the USA depend on which course you are pursuing. If you are pursuing an undergraduate degree in engineering, it will cost you around $40,000 to $80,000 per year (rs 31,79,800 to rs 63,59,600).
Similarly, if you go for a medical or law degree, it will cost somewhere around rs 1,98,73,500 if you go for public institutions and rs 2,62,33,185 if you go for a private institution.
Your child can apply for scholarship programs in the universities. If you feel that the cost is going beyond your budget, you can apply for a loan from a bank.
Another solution is to start investing in long-term instruments like mutual funds if you have a time horizon of 8-10 years. You speak to a financial expert if you are looking at a shorter duration.
2. Not meeting the Eligibility Criteria
Another reason why your child could miss their American dream is eligibility criteria. To get admission to the respective university, you need to fulfill all their requirements.
It is essential to understand the eligibility criterion so that your child might not face any problems later.
For example, if your child wants to get admission to Harvey Mudd College, then he or she needs to present a coalition application, school report, counselor recommendation, official high school transcript, and as well appropriate funds to cover the fees and cost of living.
All the documents should be presented properly and your child should meet all their requirements.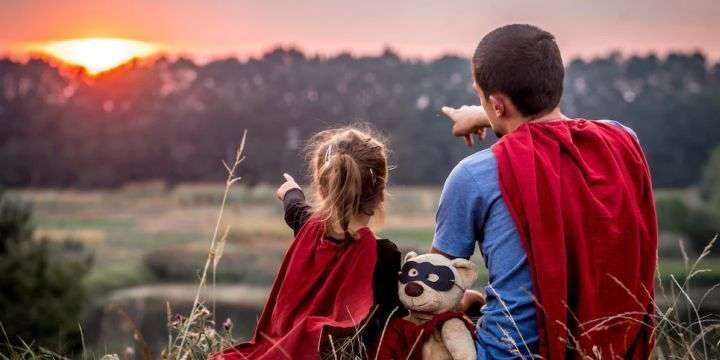 3. Incomplete university applications
Application is one of the most important parts of the complete procedure. During this process, you should make sure that all your documents are ready beforehand and that your application form has no errors.
The application form goes through a verification process in which every detail that you have filled in is checked. If the management of the university you are applying to finds out that the information you have provided is wrong, they might reject your child's application.
Let's take the example of the Massachusetts Institute of Technology. If you are applying to this university, you will have to fill out an online application which costs $75.
They require you to present your past grade scores, coursework, competitive scores, and so on. Furthermore, they also expect you to take up competitive tests like SAT, PTE, TOEFL, and IELTS depending on the course you want to pursue.
Additional read: Top 3 financial goals for millennial parents
4. Not getting a US visa on time
It is extremely important to get a USA student visa if you are going for higher education in the USA. Before you get a visa, a recognized university in the USA needs to accept your application which is certified by the student exchange and visitor program.
Once your application gets accepted by the sevp, you will receive a form I-20 or ds-2019 which you will have to fill out accurately. The process can take weeks and the US visa office may require a set of documents that you need to provide to get the stamp.
5. Currency conversion rates
The rising cost of education is one of the major factors that can affect your child's American dream. The inflation in education is the USA has been on a rise.
According to EducationData.org, the inflation in higher education in the USA is 8% more than the annual retail inflation. The general living cost in the US is more than in India.
Furthermore, most of the parents make money in Indian Rupees rather than Dollars. The currency conversion rate provides 1 USD for every Rs 80. The currency rates alone can make US education far more costly for Indian parents.
These 5 reasons why your child could miss their American Dream should not stop you! Saving in dollars and preparing your child academically to impress the admissions committee – are two ways to support their dreams! Connect with our financial and education experts to turn this dream into a reality.
Consult an expert advisor to get the right plan for you