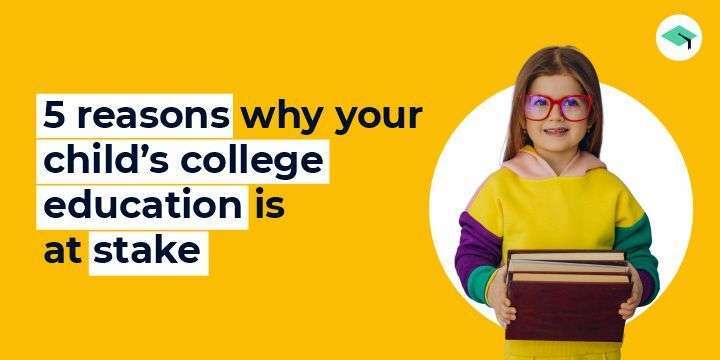 5 reasons why your child's college education is at stake
A college education is integral for every child. Not only does it provide your child with a degree and a career, but it also helps them grow as individuals. Yet there are many obstacles to good quality education.
Let's look at 5 reasons why your child's college education is at stake!
1. Education Inflation
Education has to be the top-most factor when it comes to a child's college education. Usually, the first thing which comes to our mind when we talk about inflation is the rise in the prices of fruits, fuel, rations, and so on. But education inflation is one domain that tops the chart.
Especially after the pandemic, it has been really difficult to keep up with the ever-growing education inflation. Every year, universities hike up their fees in response to the growing prices in different sectors.
According to data generated by the Government of India, it is seen that between the years 2012 and 2020, the inflation in education rose by 10% whereas the food inflation was 9.62%.
This data proves that the inflation in education has far surpassed the inflation in other necessities of life. The factors like tuition fees, higher cost of living, improved infrastructure, security, and so on.
There are certain hidden costs such as flights, food prices, daily transportation, and accommodation also add up to the overall amount.
2. Lack of Savings
Lack of Savings is one reason why your child's college education can be at stake. Many Indian parents struggle to save up for college fees and expenses.
The way to avoid this hassle is by starting an education fund for their child's education as early as possible. This helps in improving the potential to counter the inflation in education.
Your child might want to move abroad for their higher education. In such a case, you would need even more funds. Savings can be done either by going for a savings plan or by investing your money in a potential plan.
Parents whose kids are still very young are advised to go for mutual funds. The time horizon can help manage the volatility and crashes that may come up.
Also, it can help you gain a good return which will add up to the corpus for your child's education.
3. Lack of Research
Lack of research can lead to poor decisions and consequences. Certain universities are blacklisted and are not accredited by any board or council.
The degree that a student gets from this college holds no value. It can prove to be a hurdle in your child's education and a huge financial burden. Thus, proper research can help you avoid these mistakes and stay from university scams.
Furthermore, you need to ask your child about the course he or she is interested in and pursuing and conduct thorough research on the same.
You must look for job opportunities that are offered after the end of that particular course. Avoid going for courses that do not have a properly retained market.
Additional read: Private school or public school? Where to send your child?
4. Lack of Opportunities
Recognized universities provide you with the opportunity to land a job. It should provide the return on the investment that has been put in. Furthermore, the course that your child selects should have demand in the market.
The positions which are in high demand in the market tend to pay you better. If the university is renowned, many companies will conduct their drive for campus placements.
Students even opt for off-campus placements if they want to get a specific type of job.
5. Lack of Guidance
Before your child applies to any university, it is important that he or she reads and understands the eligibility requirements of the particular institution.
Make sure that your child has the necessary academic performance, extra-curricular and entrance requirements to meet admission criteria.
Most universities ask for 60% or above as an aggregate to get admission in undergraduate courses. In addition, they also require entrance exam results.
You need to have all the documents prepared beforehand. If your child does not fall in the eligibility category or is unable to produce the required documents, then his or her application might get rejected. Hence, it holds vital importance to take care of these minute details which may cause to be an obstacle.
Plan your child's education with care to avoid some of the biggest obstacles!
Consult an expert advisor to get the right plan