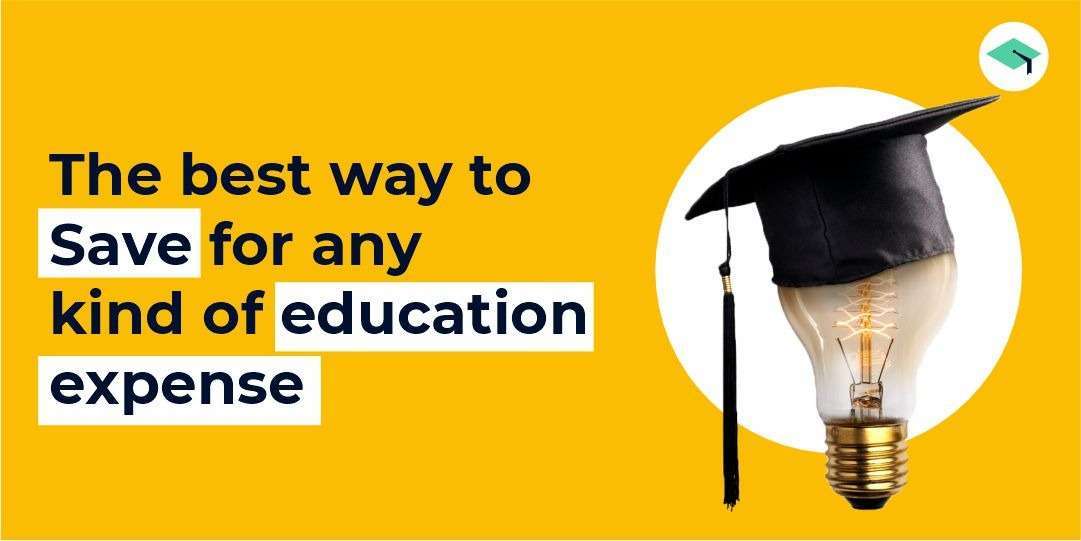 The best way to save for any kind of education expense 
In the previous article, we discussed 5 degrees for your child that can cost up to 1 crore. In this article, we will discuss best way to save for any kind of education expense
Saving and investing money is simpler when there is a goal in mind. For parents, their child's education is the ultimate goal. Given the skyrocketing cost of education in India, it is one of the biggest financial outlays that families take into account.
This is because education is not just about tuition fees; it includes a host of expenses like a laptop, phone, course fees, etc. To make sure you can provide for all your child's needs, let's find out which is the best way to save for any kind of education expense.
Why is education becoming expensive?
The education inflation rate measures how rapidly educational expenditures have increased over time. Education inflation in India is presently between 10 and 12 percent, which is more than twice as high as inflation in the economy.
Most parents frequently find themselves going to banks to take out school loans, despite the rising inflation and education costs.
Given that you have an added duty to make interest payments, this may not always seem sound advice. So, how should a parent save money for their child's education? Let's examine that in the part that follows.
Top ways to save for your child's education expense
Plan ahead and take the necessary actions to save money for your child's future. This will prevent financial constraints from impeding their ability to pursue higher education. So, these are the best ways to save for education expenses:
1. Set a goal amount for higher education
Parents generally don't know how much money to set aside for courses like medicine, engineering, the arts, science, and business. The annual costs for these courses range from Rs. 2.5 lakhs to Rs. 15 lakhs.
When you have time on your side, you can save for this desired amount with a regular SIP and the power of compounding.
Once you've chosen the SIP amount, use the step-up function to raise it as needed with your bonus or extra cash flow. As your salary rises, you should ideally increase the SIP contribution each year.
2. Time is a big factor
For young parents, the ideal time to start saving is – before your child's birth. This allows you to financially prepare for their future and minimize the risk that comes with investing.
By starting early, you would have sufficient money if you were saving consistently for 18 years. If you begin saving later than you intended, you may still be able to catch up by raising the amount you want to set aside each month.
3. Investment plans
The best way to save for any kind of education expense is through investing. Your saved money can be invested in PPF, ULIPS, and SIPs for kids every month. These alternatives allow you to set aside a sum of money every month based on your budget as well as goals.
Systematic Investment Plans (SIP)
Making money work for you is always an excellent idea rather than working for your money. Everyone makes an effort to save money, but you may be savvy and invest your funds to see your money increase. You can invest modest amounts on a regular basis using a Systematic Investment Plan (SIP), which will enable you to realize your goals.
Unit Linked Insurance Plan (ULIP)
Insurance providers provide unit-linked insurance plans that combine insurance protection with an investment strategy for investors. In this situation, a ULIP will be beneficial to you because it combines an investment and insurance plan.
Public Provident Fund (PPF)
There is no minimum age requirement to create an account with Public Provident Fund schemes, which are well-liked long-term investment plans. As a result, you can invest in a PPF for your child as it provides security, an alluring interest rate, and tax-free profits.
4. Look for Scholarships
Scholarship hunting in India is much simpler than you may imagine. With technology, finding scholarships and applying for them is easier. It may be simpler for you to obtain scholarships in India if you are a member of a specific caste or religion or come from a low-income household.
Always inquire about any available scholarships before accepting admission to any institution. These bursaries may be merit-based or available to any low-income students.
You can apply for merit-based scholarships by taking the exam that evaluates your knowledge and abilities. All they ask for from poor or category students is an income certificate and a category certificate.
5. Withdrawal plan
Even when investing long-term, the investment process is never static. Experts have recommended equity funds for individuals with an investment horizon of more than 12 to 15 years.
However, it would help if you started moving money out of stocks and into debt five years before your target. Begin a planned transfer of funds from your equity fund to your short-term debt fund.
It highlights the necessity to exercise caution while saving for an urgent need that cannot wait. Remember that your child's admittance to college has a set date.
When it comes to your child's education, having a clear strategy in mind is crucial. This is due to the significant disparity between present and future schooling expenditures.
For your child's financial stability, it is crucial to establish well-defined savings and investment strategy and implement it over the years!
Consult an expert advisor to get the right plan for you