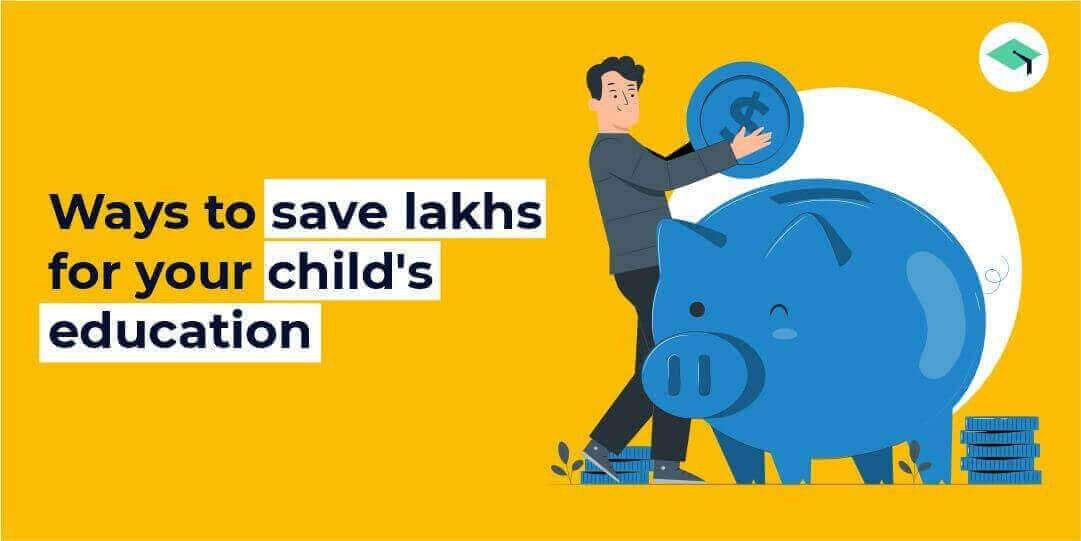 Ways to save lakhs for your child's education
If you consider Tier 1 cities, then families of these cities spend almost an average of Rs 43,000 annually on the school education of their children.
Tier 4 cities spend nearly Rs. 29,000 annually on children's education. In after-school education, an average parent spends 16,000 in a year.  
If you want to send your child to a quality university, you need to save money regularly for this goal for at least 8 years. Parents have to consider the rising education costs of education, and a suitable university, whether it is foreign or local. You also have to start saving towards living expenses like accommodation, food, transport, etc.
Applying for an education loan is the first option many parents consider when their child is ready for college. While you can opt for an education loan, it is advisable that you start saving money early in different investment schemes so that after 15-20 years, when your child is ready for college, the loan amount is reduced. 
Additional read: How can women start investment journey?
Ways to save for child education: 
1. PPF:
Public Provident Fund is considered one of the safe investment options while investing for the long term where the funds are locked for at least 15 years.
You can create a PPF account with any bank or post office and start saving your income for a good future return in the coming years. It has the ability to grow your money. The rate of interest of PPF in 2012 was 8.80 % which is now 7.60% in the year 2022.  
2. Mutual Fund:
The fund grows when the market rises. The overall return after a long period comes through stocks, equity, debt, and even from money market funds.
You can invest in a (systematic investment plan) SIP for both the short-term and long-term, and it is an efficient tool to save money.  Equity and debt are some securities where investors' money is invested in mutual funds. 
3. Fixed deposit:
A fixed Deposit is considered a safe investment option though the returns are comparatively low. If you invest a lumpsum amount through FD, you will get a fixed percentage on the amount.
The interest rate ranges from 5.75% for regular investors and 7% for senior citizens for 1 year. 
4. NPS:
National Pension System is a government-based savings option. The fund invests in government securities, bonds, and even equity.
It provides investors with two options to invest in active and a default auto. In the auto option, the funds are invested in an automatic way.
In the active option, the investor invests in the assets of their choice. It matures when the investor turns 60 years. The overall pension withdrawal amount is tax-free as per the scheme. 
5. RBI bonds:
Taxable RBI bonds have a tenure of almost 6 years, and it gives an interest rate of 7.75% per year. It is available in the Demat mode, and it gets credited in the BLA( Bond Ledger Account) of the investor.
For proof of investment, the bond is issued at Rs. 1000, and investors even get certificates of holding. 
6. Direct equity:
Direct equity is another investment option to consider while investing in the long term. Though investors find it a risky option, the return is much higher compared to other investments. For 1, 3, and 5 years investment, the return is 8,13 and 12.5 percent, respectively.
Hire a financial advisor 
If you are still confused about the best savings option for your child's education, then you can consider talking to the best financial advisors on the EduFund app. The financial advisor will guide you as per your financial needs and risk profile.   
The upside is that all this can happen in a matter of minutes and a few taps without any hassle. Parents can take the expert's suggestion and invest the money accordingly to minimize risk and find a way to get a better return on investment.
The financial advisors help you rebalance your portfolio on a regular basis to give your funds a better chance of growth when the market sees drastic changes.   
Conclusion 
As a parent, it is very important to start saving for your child's education as early as possible to fight the rising costs of education. While applying for a loan is an option, it is wise to reduce the loan amount and save for most of the cost through investment to minimize or avoid the financial burden.
Consult an expert advisor to get the right plan for you
Disclaimer:
Mutual Fund investments are subject to market risks, read all scheme-related documents carefully.