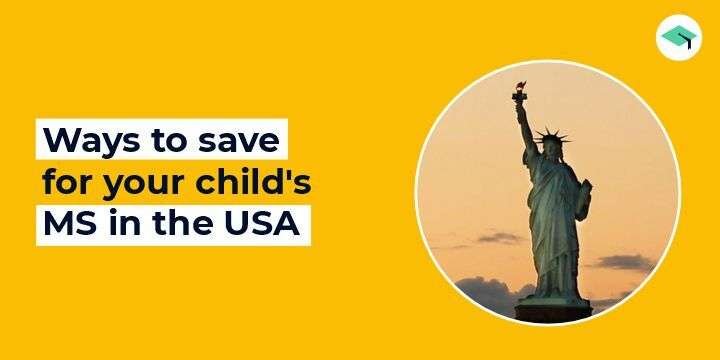 Ways to save for your child's MS in the US?
Trying to figure out the average cost of sending your child for MS to the US? The cost of studying MS in the US comes to a total of about ₹76 lakhs – 1.1 crores.
The total cost of completing an MS in the United States is constituted of both tuition fees and living expenses.
Overview of costs of studying MS in the US
The cost of an MS in the United States for Indian students throughout the program, including expenses made in India and the United States, is detailed below:
| | |
| --- | --- |
| Factors/Parameter | Amount (in INR) |
| GRE | ₹17,000 |
| TOEFL | ₹15,000 |
| Applications | ₹70,000 – 1,20,000 |
| Other Expenses During Applications | ₹10,000 – 15,000 |
| VISA Fee | ₹13,100 |
| SEVIS Fee | ₹17,600 |
| Airfares (one-way) | ₹90,000 – 1,20,000 |
| Tuition Fee | ₹65,00,000 – 90,00,000 |
| Living Expenses | ₹9,00,000 – ₹20,00,000 |
| Total | ₹76 lakhs – 1.1 crores |
These figures were calculated using a variety of assumptions, and individual costs may change.
We have just summarised a few significant costs to estimate the average cost of studying abroad, focusing on the price of an MS in the US.
How to save for your child's MS in the US
Here are several financial planning techniques that parents can employ to lessen the stress and increase the productivity of their child's MS in the US.
By following these guidelines, you can help your child achieve their goals while also safeguarding your long-term financial stability.
1. Think about long-term financial planning before you start
An early start to planning is crucial. Plans for your child's international education should be started as soon as possible.
As a parent, you may need to make some sacrifices right now, so start analyzing your spending habits and cutting back on unnecessary expenses.
Regularly set aside funds for your child's education. Additionally, consider other saving and investment choices.
You must account for the greater cost of living in the US and incorporate this element into your plan from the start.
2. Keep exchange rates and inflation in mind
For many years, the US dollar has consistently ranked among the strongest currencies in the world, with nearly all other currencies gradually depreciating in comparison to it.
You should expect that your currency will also experience this in the future. No matter when you plan to send your child to the US for education, you must factor in inflation in your country and potential currency depreciation in your budget.
By taking inflation and exchange rates into account, the EduFund College Cost Calculator may assist you in determining the average total cost you will need to send your child to the US for MS.
Longer periods provide you more freedom to invest in risky assets like stock, which might help you in the long term to fight off the effects of inflation and fluctuation in exchange rates.
Additional read: Save for child education
3. Find the most suited investment options
Even though your child's journey to the US won't happen for several years, you might not be able to meet all of your child's future expenses by merely setting up an education fund with your current regular pay.
Future living expenses will undoubtedly rise from current levels. If you want to decrease the impact of these possibly higher costs, you need to start looking for additional sources of funding straight away that are separate from your (and your partner's) salary income.
As a result, you ought to research potential medium and long-term investment options that you may start pursuing right away. Recognize your ability for risk-taking and adjust your investments accordingly.
In your hunt for mutual fund-based Systematic Investment Plans (SIP), academic investments, or savings plans particularly created for your child's MS in the US, EduFund's financial experts can help.
4. Consult a specialist before investing or studying abroad
The process of getting ready for education abroad is scary to the majority of people.
Even if you start early, create a budget and a costing plan, and research the various investment options, you could still feel entirely unprepared despite having an action plan and strategy in place.
If you're having trouble, talking to a professional can be a smart idea. With the help of our investment advisors and study abroad specialists, you may examine your options and develop a more detailed and useful approach.
You might even come across fresh options that you weren't aware of or hadn't thought of before.
Conclusion
The practical costs of sending your child to the US for a master's degree in science can be confusing, but with systematic planning and a realistic outlook, you and your child can both gain over time from pursuing this desired goal. EduFund's financial experts are constantly available for any assistance or advice you need.
Consult an expert advisor to get the right plan