How do you need to save to send your child to Cambridge? All you need to know
Did you know that international students have to pay college fees on top of tuition fees to study at Cambridge University? This is why you need to save to send your child to Cambridge University. UK's oldest and top institute with the lowest acceptance rate and skyrocketing tuition fees – getting admission at this college is not enough.
From expensive tuition costs to living expenses costing £12,400 on average (11-12 lakhs yearly), the need to invest and save is urgent!
Suppose, if your child goes for an MBA in this university, he or she will have to pay Rs 58 to 59 lakhs per year for tuition fees. Similarly, if your child is going for BTech or MBBS here, he or she will have to pay somewhere around Rs 33 – 58 lakhs per year for tuition fees.
How do you need to save to send your child to Cambridge?
1. Preparing an education fund
Preparing an education fund helps in growing your financial corpus. You can do this by investing in financial assets which have a longer-term plan. These plans include mutual funds, ETFs, and so on. Start by deciding your monthly budget.
Choose an investment plan which suits your need and budget. Make sure that you do not invest in a plan which offers low returns. ULIPs are a really good option if you are saving up for your child's education at the University of Cambridge.
Public Provident Fund is another great option that you can go for. Parents prefer going for PPF because it provides a specific interest rate and is extremely secure. Apart from this, you must always prepare a long-term investment option.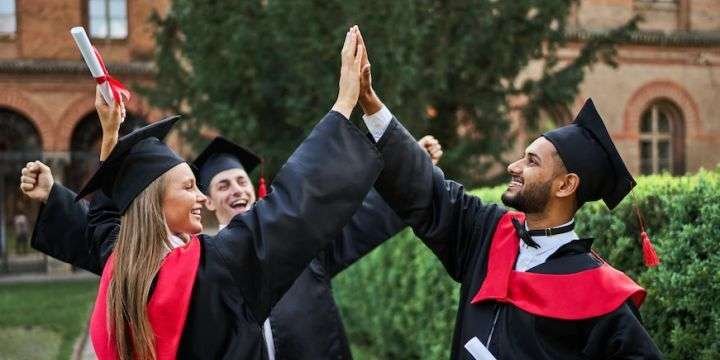 2. Balanced investment options
Fixed deposits are great ways to invest but do not beat inflation. You cannot rely on them for the long term since they provide fixed returns of 5-6% while inflation in the current economy averages around 7-8%. The chances are that as an investor, you will lose the opportunity to gain from the markets.
Equity funds will be a good option for you if you start early as a parent. Around eight to ten years are required for you to build the right amount of corpus. You can go for SIPs in equity funds because they have a good return value and do not require heavy sums of money in one go.
Equity exposure until five years to the date of maturity can prove to be extremely beneficial. In the last decade, equity mutual funds have delivered an average return of 15%.
If you consider yourself a moderate-risk investor, you can still invest 60% to 70% of your total investment amount in equities. Make sure that you have a sufficiently long investing horizon so that you can counter crashes and volatility. Remember investing is risky but a good plan and a great advisor can help you manage your money better even in the worst climate.
Additional read: How much do you need to save to send your child to Hayward University?
3. Aggressive investment options
Equity investment leads to higher risk but also good returns. If you want to add more options to your portfolio, you can go for aggressive investments.
In such a type of investment option, the investor takes on more risk to that he or she can achieve a higher potential return. Investing in stocks is a way of doing so. Although it is quite volatile and requires daily inspection, it has the potential to offer a chance for greater gains when compared to other types of investment.
Some other types of aggressive investment options are stock mutual funds, real estate investment trusts, hedge funds, emerging markets, small-cap stock funds, private equity, foreign stocks, global funds, and so on.
There are many ways to save to send your child to Cambridge but all start with smart planning for the right cost with the right experts. If you want the best for your child's education, connect with us!
Consult an expert advisor to get the right plan for you