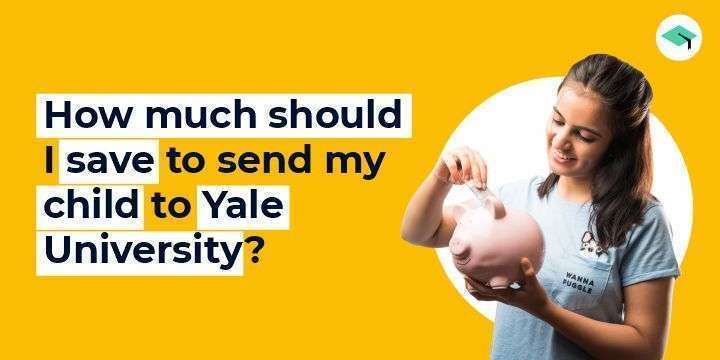 Ultimate guide: How you can save to send your child to Yale university?
Parents go above and beyond for their child's dreams. They spend a significant amount of money on their upbringing to ensure their child does not lose out on any opportunity.
But, while looking at short-term goals like buying a laptop or a phone, parents forget to save for long-term goals like their college.
Making early savings plans for your child's further education is important because:
The cost of education is rising fast
A student loan may not be the best choice for your child's future
Expansion of career options
The rise in competition and aspirations
Increase in options for foreign education
How you can save to send your child to Yale University in the US?
1. Costs to send your child to Yale University
Over the past few decades, the expense of attending college has been steadily rising, and few institutions are immune.
Private, non-profit four-year institutions graduate some of the best-earning students and have some of the highest four-year graduation rates.
During the 2019–2020 academic year, the average tuition fees at Yale University were roughly ₹44 lakh, housing cost ₹7.4 lakh, and boarding cost ₹6 lakh for a total of ₹57.5 lakh.
The school also calculates that students spend around ₹3 lakh annually on books and other personal expenses. It lists a ₹10,000 annual student activities fee, bringing the whole cost of attendance to about ₹60 lakh.
The cost of attendance also included options like senior class dues (₹9,500) and health insurance (₹2 lakh).
Fast forward to 2020-2021, the average cost of attendance given by the university itself rose to ₹61 lakh, which includes fees, textbooks, room, and boarding.
But that's not the price you'll pay 18 years from now, this ₹61 lakh will increase by 3% every year growing to more than ₹1 crore annually by the time your child is ready to head off for college.
And if your child gets a 4-year degree, that means you'll be on the hook for over ₹4 crores. Now that you know the cost of studying at Yale University, it is easier to start saving for it.
Additional read: What is better? Studying law in UK or USA
Now let's see how much you'll need to save.
To fully fund your child's education at Yale University, you'll need to save about ₹1.5 lakh a month or more than ₹17 lakh a year every year until they turn 18. That's more than ₹3 crores out of your pocket.
Now, the whole idea is that these numbers are nearly impossible to manage along with all other expenses of raising your child.
Hence, you need to understand that you need long-term investment plans to fulfill your child's educational dreams.
The only way to make these dreams a reality is by planning your finances and investing in plans like mutual funds via SIPs, investing in US Markets, and much more.
Let's assume you are ready to start investing for your child's future studies and start putting money in a SIP right away for the next 18 years – assuming that's when your child goes off to college.
Through our cost college calculator, can find out the future cost and how much you need to save up when that time arrives.
By investing ₹11,000 every month in SIP for the next 18 years, you will be able to collect ₹3 crores* by February 2040, or you can use the lump sum method and invest about ₹5.4 lakh right now to earn up ₹2 crores by June 2040.
Depending upon your time horizon, fund collection as well as market fluctuations, your returns will differ.
Long-term investing options are great for parents who are looking at college for 8-10 years or more. But if your child wants to go to Yale University in 1-2 years, then no worries, you can approach a financial expert to figure out the best course of action.
Your child can apply for scholarships and grants or you can also explore the options that Yale University offers for financial aid. There is always an option of education loans that offer attractive interest rates.
Whether it's Yale or Harvard, saving early and establishing a good strategy for your children's educational goals is the key to success.
Delaying the journey even by a year could cost you dearly! In the times we live in, education is expensive and cannot be compromised at any cost!
Consult an expert advisor to get the right plan for you