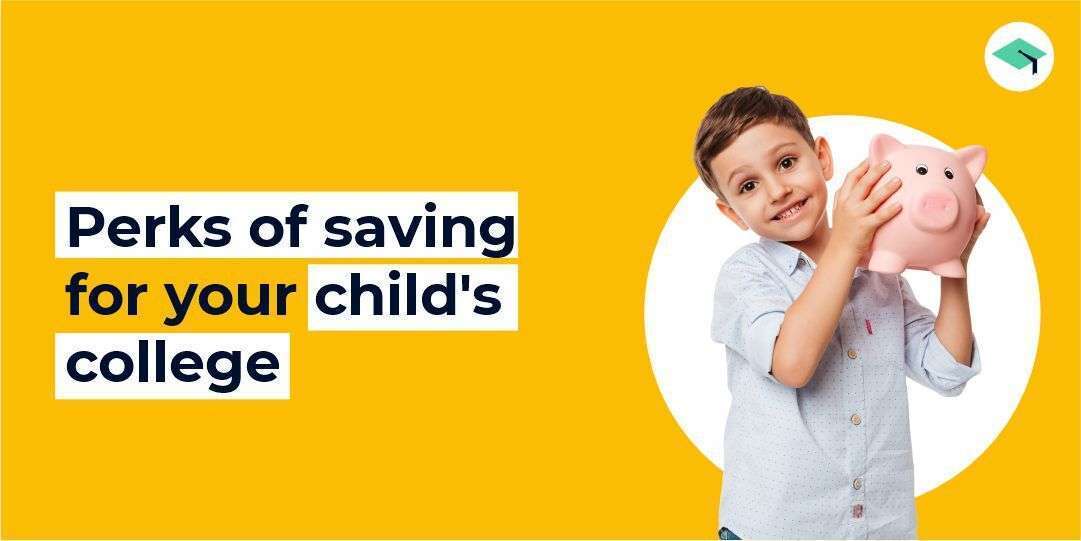 Perks of saving for your child's college. All you need to know
Paying for college is one of the biggest financial concerns across the globe. With rising education inflation in India, it is imperative to save early.
Saving early for your child has its own set of perks – it gives you the chance to send your child to the best university as well as the financial freedom to choose their own path.
Creating an education fund for your child not only secures your future but also theirs! It reduces the chances of student debt in their life and gives them a chance to focus on career planning.
Advantages to saving for your child's college.
No stress about taking an Education loan
When you plan to save early, there is no need to apply for an education loan. Moreover, you can plan your investments based on preferences. Usually, an education loan is a viable option to get a dream job.
But it can be stressful at the time of repayment for your child. Hence, saving early is the key to allowing your child to pursue their dream degree. And when you plan properly for your child's education, they find it easy to perform.
This is because there will be no stress factors involved to repay the loan. When you save in a planned manner, you are ensuring the financial security of your child. You will be utilizing your savings to fund your child's education.
While an education loan is a savior for most parents, it should not be your first preference. In simple words, you or your child will have to spend over five to six years of their initial career to repay the loan.
This means your child may get late in planning for their financial goals. Furthermore, education loans come with higher interest rates. By planning and saving wisely for your child's education today, the need to apply for a high-interest education loan reduces!
1. Allows your child to pursue a multitude of career options
There are so many career options available that each one seems more lucrative than the other. In other words, your kids may want to explore more than one career option.
For instance, if your child is interested in Computer Science, they may also enroll in certain types of certification courses.
With easily accessible funds, you will be able to provide the desired flexibility to your kids. By leveraging savings, you will be able to comply with the child's educational demands.
Your child will be able to develop dynamic career goals by enrolling in various types of educational courses.
2. Send your child to a foreign university
In the absence of the burden of an education loan, you'll be able to send your child to a foreign country so that they can pursue higher studies. There is no denying that sending our children to foreign universities can be pretty expensive.
You have to apply for a huge loan amount to fund your child's education in foreign universities. Apart from this, there are expenses like visa costs, living expenses, accommodation fees, flight costs, and above all, the currency difference that can hurt your pockets and create money churn.
But with proper savings and timely investments in mutual funds and ETFs in a planned manner, you can send your child to study in their country of choice.
Read more: The best way to save for any kind of education expense
3. Chance to build your own Retirement fund
The best way to develop your own retirement fund is to save early. By saving early, you can not only fund your child's higher education but also build your retirement plan. There is no denying that building a retirement plan has several advantages.
Many Indian families and parents fail to start a retirement fund for themselves because of a lack of planning, growing expenses, and a child's education needs. By disciplining yourself from the start and prioritizing long-term needs, you can break this norm.
4. Helps in keeping up with your Kid's rising aspirations
With each passing day, kids are becoming more ambitious. Nowadays, teens are more aware of what to do in their life than in earlier times. In simple words, they have clarity of their objectives. Furthermore, there is peer pressure on your child. They tend to work hard to show their abilities.
The best way to plan for your child's education is to invest in mutual funds. Mutual funds are a little riskier than other financial instruments. Mutual fund schemes allow you to invest your money systematically.
The perks of saving child's college are endless! From financing their dream to your Europe trip, financial planning can do wonders.
Consult an expert advisor to get the right plan for you