Scholarships in Germany to fund child's college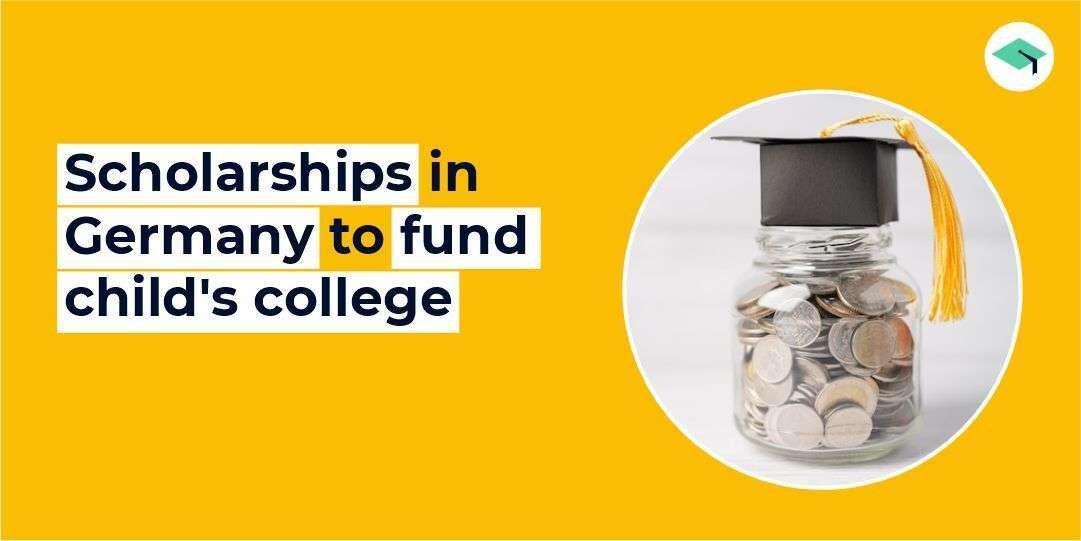 Studying in Germany is not very expensive as tuition fees charged by public universities are relatively low; however, it might be difficult for international students to pay the monthly living expenses in Germany, which can be close to EUR 1200(INR 1.5 lakhs).
Here are some German scholarships that can help you and your child shoulder the increasing cost of living and tuition.
Top German scholarships to fund your child's college
Germany is one of the few nations that offer free higher education to students from all over the world in its universities.
In order to help students cover their living expenses while studying in Germany, the nation offers a variety of scholarships.
Following is the list of scholarships for international students planning to study in Germany.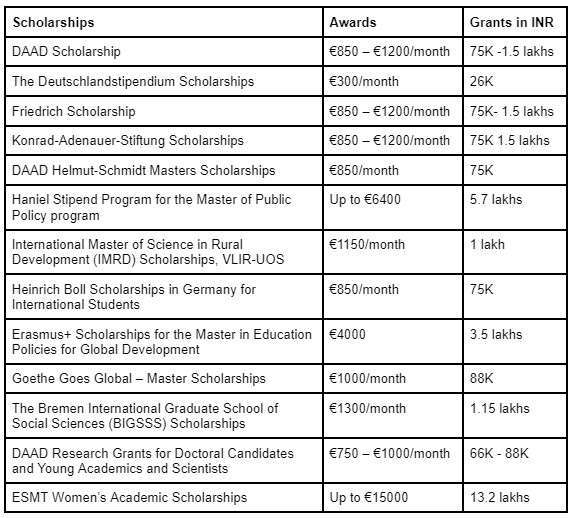 German scholarships for bachelors courses
Following is the list of German undergraduate scholarships that you shouldn't pass up if you are planning to study in Germany after the 12th:
Jacobs University Scholarship
Bayer Foundation Scholarships
Kurt Hansen Science Scholarships
Heinrich Boll Scholarships
Master Scholarships at the University of Stuttgart
Deutschland Stipendium
German scholarships for master's courses
Students choose to enroll in master's programs abroad as opposed to undergraduate programs. Master's degrees let students reach their full potential. Below is the list of German scholarships for masters that you should be aware of:
Jacobs University Scholarship
Deutsches Krebsforschungszentrum (DKFZ)- German Cancer Research Centre PhD Scholarship
Bayer Foundation Scholarships
Hamburg University of Applied Sciences Masters Scholarship
Kurt Hansen Science Scholarships
Goethe Goes Global Scholarships
WHU- Otto Beisheim School of Management, International Scholarships
Masters Scholarship at the University of Stuttgart
DLD Executive MBA Scholarship
Konrad-Adenauer-Stiftung Scholarship
Heinrich Boll Scholarships
Deutschland Stipendium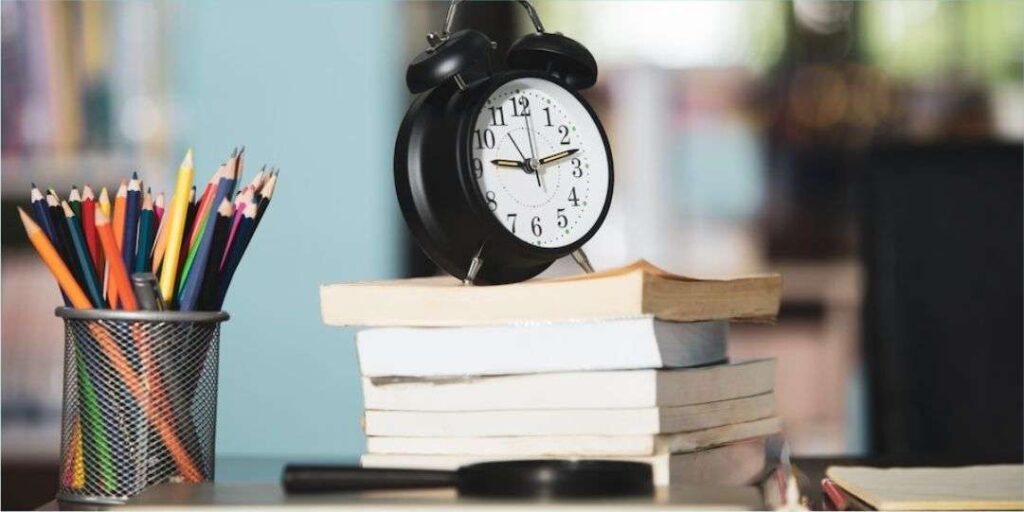 Are scholarships enough to cover the cost of education in Germany?
Some scholarships normally only pay a portion of the course fee; the student is responsible for the remaining expenses. As a result, there are several expenses to consider when a student decides to travel to Germany to attend college.
These include tuition fees, registration fees for higher education institutions, security deposits, travel-related projects, accommodation, meals, and even trip-related travel expenditures.
You can use our College Cost Calculator to determine the precise cost of studying in Germany and help you acquire the funds you need to save for your future education.
Cost of studying in Germany
Students enrolled at German institutions, regardless of whether they have scholarships, must pay a semester fee or administrative charge, which typically ranges from €250 (INR 22,148) to €500 (INR 44,297), as well as other miscellaneous expenses like living expenses, which you may not be aware of and which are typically not covered by scholarships and student loans, are unavoidable.
Additionally, a lot will rely on the place you have selected to attend school in.
For example, Munich, Frankfurt, and Hamburg are more costly than other, smaller cities. Here are the typical costs (indicative) you might anticipate incurring each month while attending a German university:

As a parent, you must budget far in advance for all of these fees because they are not covered by scholarships or education loans.
You can consider long-term stock funds, such as mutual funds. Additionally, there are specific programs for children that dynamically allocate assets between debt and equity.
Because stock investments are made, returns usually outperform inflation rates and also have advantages in terms of liquidity.
Starting out in financial planning can be challenging. With so many options for saving and investing, it's crucial to know which ones will enable you to reach your objectives more quickly.
So don't be afraid to ask for assistance and create a reliable savings plan from an expert financial planner!
We hope this blog helped you learn about scholarships in Germany to fund your child's study abroad dream!
You can boost your chances of receiving a scholarship by raising your grades and getting involved in extracurricular activities, community service projects, and outreach initiatives.
Consult an expert advisor to get the right plan
recommended reading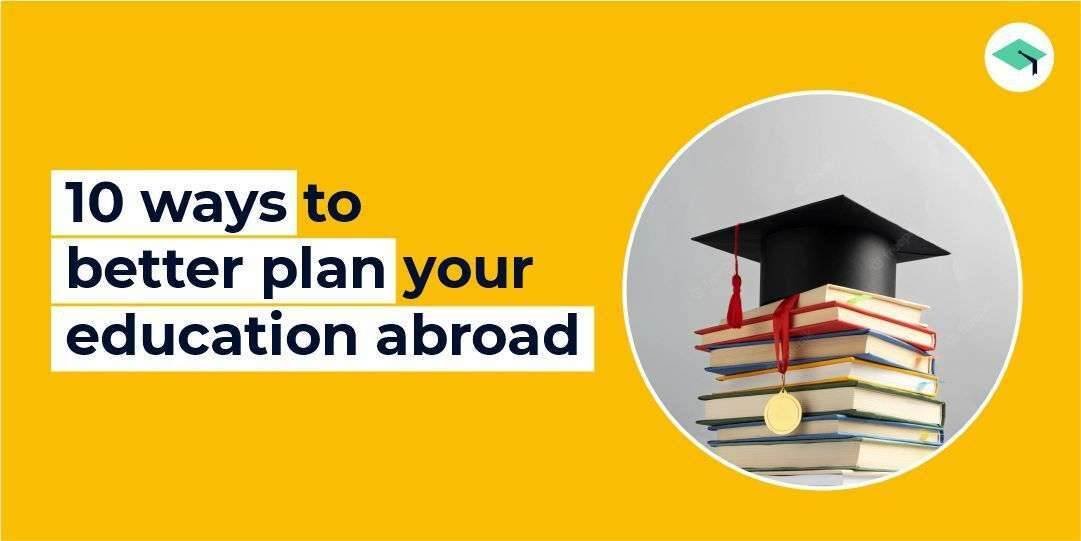 Stressed about going abroad to study at your dream college? Wondering how to better plan your education abroad? Then, take a deep breath and let all the negativity flow out. Next, formulate a plan to go about the whole process in the most systematic way possible. There are a few intrinsic steps involved in this journey. We have made a list right here which can help you set your goals right and achieve them one at a time. Top 10 ways to plan your education abroad 1. A Basic plan Every journey begins with a basic course of action. Sometimes journeys appear more difficult than they are and this is often the case with education abroad. Charting out what you want to do demystifies the complications, it offers you clarity on what you must do next and how much time you have to do it. When global education is involved, usually the course of action starts with deciding which part of the world you want to study. The following points can help you form a well-structured plan before you get started. 2. Looking up universities Once you decide which places you are interested in, the next step is to make a list of universities and colleges. Make sure to put down the names of institutions that have crossed your mind. In fact, you can prepare separate priority lists - one for your dream colleges and another for institutions that can offer your desired course or potential research supervisor. This way, through newer shortlists you can reach the final list as you do more research on each college. 3. Time management While noting down the names of the universities and colleges, make sure to also look up their application deadlines. Knowing the deadlines for submitting applications is what will give an ultimate edge to your course of action. Now you will have an idea about the approximate number of days you have in your hands to prep yourself. Usually, the date for submission of applications comes under the same month. Not knowing the deadlines is what creates all the stress and confusion. But once you are aware of them, you can be confident and focus on making optimum use of it in gathering resources, and money and developing your skills. 4. Savings Going abroad is a costly affair. Knowing how much time you have on your hands also lets you calculate how much money you can save. The income-expenditure ratio also becomes important in deciding how much money you can put away as savings. Start saving as soon as you can. Even if you are not sure about going abroad for your higher education, it is still advisable to put away money in general for education. On deciding to pursue a global education, make note of the tuition fee, cost of living, and other miscellaneous expenses that might be incurred during your stay there. This gives you clarity on much you will need to save. 5. Investment Be it education or any other significant event in your life, investing is always an improvement upon saving money. Savings do not generate more wealth, investments do. You can look up different mutual fund schemes to know which one will be the best for you. Fixed deposits have a certain rate of interest, but mutual fund schemes usually offer more than that. You are also advised to start investing in foreign exchange stocks like US stocks to make up for the depreciating value of the Indian currency and the subsequent rise in the cost of pursuing education abroad. 6. Building Credit Another financial aspect that is quite understated is the importance of building credit. Building and maintaining a good credit score can go a long way in availing you of the best deals in loans with negotiable rates of interest. It is also crucial to start young and early, for example, with education loans or simply with credit cards. When the time comes to go abroad, your impressive credit score will make you qualified for the student loan that can support your global education. 7. Scholarships An important thing you are required to look up while checking out different institutions is the scholarships that apply to you. In a lot of cases, deserving candidates can avail themselves of different scholarships that pay their tuition fee or at least a considerable part of it. In the case of research, you might enjoy deductions on the tuition fee from the institution itself, alongside receiving a stipend. Read up thoroughly about these international scholarships and the criteria or qualifications required to avail of them. 8. Building Contacts The process of building contacts is something you should ideally get started with while you are in the stage of planning the basic course of action. Taking the advice of peers or seniors who have already been through this process can offer perspective and useful information to ease up the journey for you. Later, you might have to build contacts with the faculty member(s) of certain institutions that you are aiming to get into. This is usually the case for research scholars and falls under the application procedure. 9. Skill Development Skill Development takes into account prepping for the final application submission as well as becoming sharper at the subject you are going to pursue. Deciding to pursue global education is sometimes synonymous with entering the tough competition. Make sure you are doing your best in presenting yourself to the world as a deserving candidate. Skill development also takes into account clearing the examinations that are often recommended or mandated by some institutions as proof of your worthiness. These include SAT, GMAT, GRE, TOEFL, IELTS, and so on. 10. Preparing for Applications & Interviews Last comes the main procedure - that of submitting applications and attending interviews. As scary as it sounds, once you are done with all of the above, you will find yourself to be more at peace and confident to brave it all. Institutions might require you to submit essays or answer questions alongside the submission of the SOP and the main application. There might be interviews on a group or individual basis. Find out about these things beforehand so that you can be well-prepared when the time comes. Conclusion The correct way to simplify a complicated procedure is to break it down into small parts and set short-term goals that make it look doable. The thought of pursuing global education can make you anxious at first but with the right plan, you can ace it. EduFund is your partner through and through, whether it is guidance that you need or student loans, we're here for you. FAQs How can I make my application better for studying abroad? Start early. Be honest with your details, especially with your SOP. Show your involvement in extra-curricular activities, community service, and work experience. Add letters of recommendation from your teachers, counselors, employers, etc. How do I motivate myself to work on a better plan for education abroad? You can motivate yourself by constantly reminding yourself of the great educational and career opportunities that await you after you complete your studies. You'll have a whole new experience of living in a different country, miles away from home. You'll be able to learn great things about different cultures, share your culture with others, make new friends, learn a new language, and find great employment opportunities. What skills do I need to develop to study abroad? In order to not only get admission abroad but also successfully manage to thrive there, you must develop the following skills - Independence, adaptability, communication skills, cultural awareness, budgeting, time-management, networking, flexibility, etc.