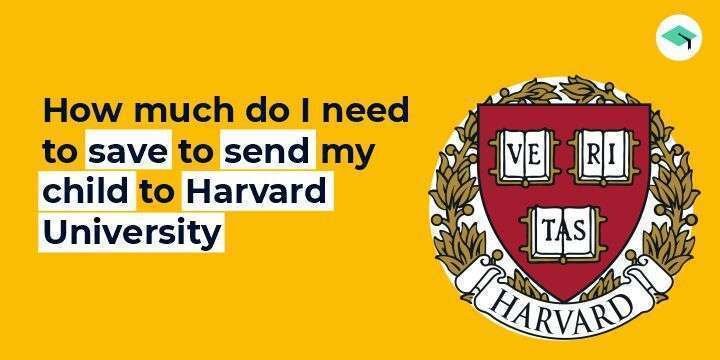 How much do I need to save to send my child to Harvard university?
How much do I need to save to send my child to Harvard University is one of the top queries of a parent who wants to send his child abroad.
Harvard is considered one of the best universities in the world, offering varied graduate and undergraduate programs like business administration, business management, bioengineering, law, economics, arts and science, sociology, etc.
Students dream of studying at this university but only a few with academic excellence are given the chance to step onto the campus to study and fulfill their heart's desire.
Imagine if your child is one of the selected few who have managed to gain entrance to this top university. But what happens if they are unable to enroll just because they do not have the required funds?
At such times the first thought that crosses the mind of a parent is that it is necessary to plan and save to send my child to Harvard University from an early age.
Steps required to plan and save for sending a child to Harvard university
How much I need to save to send my child to Harvard University is a question that can be answered by following the subsequent steps:
Know about the current cost of education at Harvard University
When your child starts showing an affinity for a specific course it is the right time to start planning and saving for his further studies.
Be aware of the cost of studying at Harvard University, for example on average the fee structure of most of the 3-year and four-year academic courses varies between $50,000 – $70,000 (Rs. 40 to 55 lakhs).
Factor in the expected expenses
Tuition Fees: Identify the tuition fees and the other mandatory fees
Room and board: Most of the students prefer to live on campus as it is less expensive compared to outside accommodations. It also offers easy access to meals, classes, and extracurricular activities which is a blessing for students who have traveled from different parts of the world to this esteemed university
Transportation costs: If the student is living out of campus then the transportation cost should also be added to the total cost
Food expenses: Factor in the food expense for both on-campus and off-campus scenarios
Education inflation: You need to add the inflation rate (minimum 7%) to the total cost.
You don't need to guess – you can calculate this cost by using the College Cost Calculator for Free!
Calculate the average costs
Calculate the average costs of studying at Harvard and identify how much money I need to save to send (\your child to Harvard University.
Go through all the expected costs and identify an average amount that you need to shelve out for instance 60,000 dollars (Rs. 47 to 48 lakhs). Now calculate how much time you have before sending your child abroad.
Get a rough estimate about the amount you need to save every year, for instance, 60,000 dollars/8 years which amounts to 7500 dollars per year (Rs. 5- 6 lakhs)
Effect of compounding
Make most of the compounding as it will reduce the principal amount to a great extent and magnify your returns. If a parent wants to save 60,000+ dollars, she will have to shelve only an average of estimated 5,500 dollars instead of 7,500 dollars @ 5% interest per annum for eight years.
Research the best available saving option that will help to save with better interest rates. Or you can talk to an expert to understand how much I need to save to send my child to Harvard University.
It is a step in the right direction as it helps parents to plan and save effectively within their budget with help of India's first college cost calculator and with a curated plan to achieve that target.
Plan and start investing
Parents who start planning for their child's future from the very beginning have an additional advantage over parents who realize the importance of saving at a later stage.
If you are one of the late investors do not panic, you can still make some well-advised investments that can help you make up for the lost time and get the required help in the planning and saving process for the child's brighter future at the Harvard University.
Financial aid program at Harvard University
Harvard University has a top Financial Aid Program in place that helps students to enroll in their desired career course at a discounted fee structure.
Officers work with interested students or their families to create a financial aid package that will help interested students to opt for the preferred course at a minimum cost of attendance.
According to the university, for the academic year 2022-23, families with an annual income of up to $75,000 will not be expected to make any viable contribution towards their child's cost of education whereas families with earnings between $75000 – $150000 will be expected to pay 10% of their annual income.
However, this is for US citizens only. The university offers a bunch of scholarships to international students to help them support their studies.
There is no clear-cut roadmap about the amount of money a parent needs for gaining admission and becoming an integral part of the Harvard community. But with the help of the college cost calculator and expert guidance you can easily save up for the cost of education!
Consult an expert advisor to get the right plan