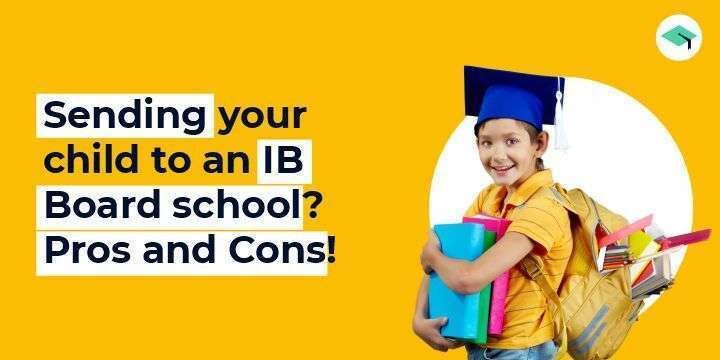 Pros and Cons of sending your child to an IB board school. All you need to know
Are you planning to send your child to an IB Board school in India? You are not alone! Many Indian parents, over the years, gravitated toward the International Baccalaureate (IB) Board.
So much so that the number of international schools offering IB programs has grown tremendously over years.
In 2003, there were merely 11 schools with IB boards, now there are nearly 208 world schools located across the subcontinent!
IB board is typically offered by international schools in India and opted for by parents who want to send their child abroad.
Parents prefer IB for its teacher-student ratio, holistic curriculum, global exposure and focus on sports and extracurriculars. IB curriculum offers an innovative, inclusive, and interactive approach to learning.
Let's look at some pros and cons of sending your child to an IB world school in India:
Pros of sending your child to an IB Board School
1. Global Exposure and Cultural Diversity
IB is a global program with 5000 schools in 160 countries like Australia, Norway, India, China, and Zambia! The learning approach is dynamic and international.
The IB board is popular and recognized by top universities; its curriculum is updated regularly to keep up with the changing skill requirements and career developments.
2. The balance between Extracurriculars and Academics
IB schools believe in skill building and offer a great number of subjects like Art, Music, Sciences, and extracurriculars like sports, debating, MUNs and community service, etc.
The focus is on personality development and offering students a variety of facilities to grow and nurture their interests! The exposure can help students decide their passion and can add value to college applications!
3. Help with university applications
IB boards encourage students to develop skills that align with foreign universities and their requirements. They value communication skills, interpersonal skills, research ability, and open-mindedness.
IB has programs like Theory of Knowledge (ToK), Extended Essay (EE), and extracurricular activities related to Creativity, Action, and Service (CAS) to help with university applications!
4. Great student-to-teacher ratio
IB world schools maintain a pupil and teacher ratio of 25:1 for all classes. The ratio can differ from school to school in India.
This is an advantage for parents, teachers, and students hoping to send their child to an IB school because the regular classroom size of a CBSE or other state board is 45 – 50 students and 1 teacher.
IB schools ensure smooth teacher and student interaction by reducing the class size and ease for teachers to offer assistance to every student adequately.
Cons of sending your child to an IB Board School
1. Expensive
IB world schools charge more than CBSE/ISCE board-run schools. The average tuition cost of studying at IB schools in India is Rs. 4-5 lakhs per annum.
The average tuition cost does not include school trips, daily transport, or hostel fees. Additionally, parents have to spend on uniforms, course material, or other expenses separately this can tally up as a huge expense for parents.
2. Location
Most IB schools in India are located in urban cities like Delhi, Chennai, Bangalore, and sometimes on the outskirts of the city.
This means parents have to opt for school-assigned buses or spend money on private vehicles for daily travel. Public transportation is not viable because of the lack of connectivity (in the case of some schools) and is often unsafe in some cities for younger kids.
Long-distance travel to school can be expensive and mentally draining on your child so check the location before enrolling!
3. Workload
Students studying at IB schools are often overburdened with essays, projects, and assignments for a range of subjects.
It is a great way to prepare for college, it can be tiring and hectic for students. It can lead to burnout, fatigue, or stress among students.
During the middle year program, subjects have to manage 8 subject areas and during the last two years, they have 6 subject areas and a diploma program core. DP core includes Theory of Knowledge (ToK), Extended Essay (EE), and extracurricular activities related to Creativity, Action, and Service (CAS).
4. Lack of flexibility
The IB board offers 6 subject areas for students to choose 6 subjects from in classes 11 and 12. These subjects areas area:
Studies in language and literature
Language acquisition
Individuals and societies
Sciences
Mathematics
Arts
Every student can choose only one subject from one category – if you decide to exclude the arts category then the student can opt for two subjects from the same category but not beyond this.
There is also a possibility that the school does not have the infrastructure to offer certain subjects that the IB board may include in their curriculum! For example, the IB board includes films as a subject, but the school may not have a teacher to teach the course.
Additional read: Is it easier to get funding for international studies than for higher studies in India?
Do IB world schools give your child an edge in foreign applications?
Yes and no! While IB world schools offer a great amount of exposure, there is no guarantee that your child will end up at an Ivy League or Oxbridge after graduating.
Foreign admissions offices consider hundreds of applications for limited seats, and each application consists of an academic record, extracurriculars, your child's statement of purpose, recommendations, and much more. All these factors together determine whether your child is the right fit for a particular course at the university.
Your child's developmental skills, problem-solving abilities, and eligibility for a course determine their selection, not any particular school board.
However, the school board can help tremendously in developing these skills and giving your child the exposure, they need to further their ambitions.
Schools help shape children academically, and developmentally and nurture them during their formative years.
They play a huge part in deciding your child's career path which is why whether you send your child to an IB school or a CBSE school should be a well-researched decision.
Consult an expert advisor to get the right plan for you