Should my child study data science and should you save for it? All you need to know
In the previous article, we discussed Five Things You Should Consider As A Parent Sending Your Child Abroad. In this article, we will discuss should my child study data science and should you save for it?
Considered one of the most popular courses of the 21st century; the demand for data scientists across the globe has risen.
From top management firms to budding start-ups – over 11.5 million jobs will be created by 2026 for data scientists alone! if your child is interested in maths, and statistics and loves technology; then this is a great career choice for them.
From, 'should my child study data science' to 'how much to save for the top universities for the program; this article will answer all your queries.
Why is Data science the trendy new subject?
Data Science is a fast expanding and very profitable discipline of education worldwide. Technology's exponential expansion creates both obstacles and possibilities for businesses.
This necessitates skilled individuals who can comprehend the difficulties and supply professional remedies to modify the operating style. Because a massive quantity of data is created every minute, enterprises require professionals who can handle complicated challenges.
Data science has become a significant approach in many industries. Digitalization, cognitive computing, and the internet of things have continued influencing humankind as industries move toward digital transformation.
Undoubtedly, data science has transformed all major industrial sectors, including financial institutions, medical services, entertainment, sporting, construction, and the service industry.
Because of the course's extensive industry requirements, it's becoming an appealing option for parents who want to see their children settle overseas.
Data Science Job Market 
The data science work sector is brimming with opportunities for data scientists and a variety of data professionals with varying degrees of knowledge and training, professional backgrounds, and specialties. According to glassdoor, the average salary for data scientists is Rs. 76,61,458 in the USA.
Many big worldwide firms are now looking for data science professionals, with some advertising thousands of opportunities in this expanding field. The list includes a selection of prominent corporations from various sectors with multiple data science job vacancies than other business sectors.
Top 10 companies hiring data scientists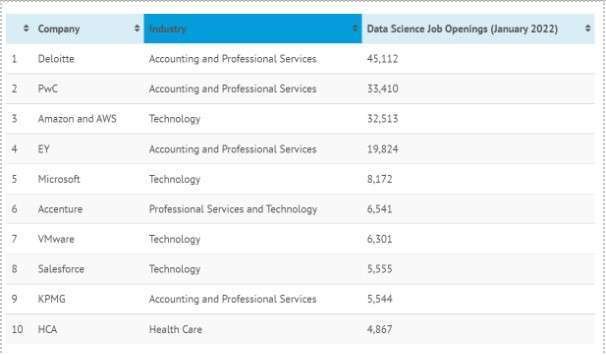 Many enterprises that depend on data are expanding, as is the demand for professionals who can successfully manage and use data.
According to LinkedIn's Emerging Jobs Report, data science is the third fastest expanding area in the United States, with a 37% annual growth rate.
Below are the job titles and average yearly incomes in the United States based on Glassdoor and PayScale statistics.
Data Engineer: Rs. 57,73,042
Data Architect: Rs. 58,04,982
Statistician: Rs. 61,40,345
Machine Learning Specialist: Rs. 61,60,307
Data Scientist: Rs. 76,61,458
In fact, the highest-paying countries & average annual salary is listed in the table
| | |
| --- | --- |
| United States | $165,000 |
| Switzerland | $140,000 |
| UK | $120,000 |
| Australia | $124,000 |
| Israel | $119,300 |
| Norway | $111,000 |
| China | $98,169 |
| Canada | $95,000 |
| India | $93,680 |
| Belgium | $90,000 |
How much does a data science degree cost?
Tuition prices for MS in Data Science programs at US colleges range from 21,000 to 75,000 USD (Rs. 16 lakhs to 60 lakhs) per year while the average yearly salary of a data scientist in the United States is USD 155,000 (that is over 1 crore in Indian rupees).
In an Indian college, the average cost structure for a Masters's in Data Science ranges from Rs. 20,000 to Rs. 4 lacs. However, depending on the university, the course price might reach Rs. 20 lacs.
Top universities that offer data science programs:
Massachusetts Institute of Technology
Imperial College London
The University of Texas at Austin
ESSEC
University of Melbourne
University of Warwick
IE Spain
University of Southern California (USC)
University College Dublin
University of Edinburgh
Knowing the exact cost can really help you in saving, you can use EduFund's college cost calculator to find out the cost of studying different courses across the globe.
This can help you plan your child's future by saving for the future tuition fees and living expenses in the country.
What is the best way to save for your child's data science course?
Starting a specialized investment portfolio for this purpose can result in long-term rewards, particularly if the assets are in equity-based investment products. Starting with Mutual Funds to exploring inflation-proof options like Digital Gold; you can save your money on numerous options via SIP or lumpsum.
These investments, given enough time, can compound and produce substantial
profits and help you sponsor your child's dream. Financial planning and starting early do not always imply starting with significant amounts in one go; you can start investing small sums of money and increase your sum as your salary increases. Investing is the best and most efficient way of saving for prominent goals like your child's education.
Education cost is bound to rise and if your child is planning to study popular and competitive courses like Data Science, Medicine, or Computer Science then their popularity will add to the total cost. Start saving early on and create a healthy college fund for your child's dream course!
Consult an expert advisor to get the right plan