A simple guide to opening your first Bank account
If you are a young college student, newly 18, it is time for you to get your own bank account. A bank account is not just a place to safely stash your money.
More importantly, it enables you to make smooth and safe money transfers and transactions. You also have the opportunity to earn interest and thereby compound your savings or investments.
As a young adult, you will be learning the basics of financial independence and responsibility. Your own bank account can be your first step towards that goal.
Let's start with the big question.
Why should you get your own first bank account?
1. Financial Independence
The foremost benefit of having a bank account is that it is the first step towards financial independence. As a teenager, your parents probably monitored and supervised all your financial transactions and purchases.
Having your own bank account gives you a lot more discretion and agency over where and how to spend your money.
Having this agency is crucial to your learning financial responsibility. Learning to make your own financial decisions and when to say yes or no to purchase is an important life skill. Being in control of your own bank account teaches you this.
2. Security
A bank account is the most secure way of keeping and handling your money. Unlike cash transactions, bank transactions are secure and often even reversible.
This is because banks take extra steps to ensure that the money is being sent to the right person. You also maintain a paper trail with these transactions.
If you fear you have been a victim of fraud, you can even contact your bank to cancel a cheque or transaction. This lowers the risk of you becoming a victim of fraud or losing your money.
2. Receiving payments & scholarships when you study abroad
If you study abroad with a scholarship, you will most likely need an independent bank account. To receive these scholarships, stipends, or payments from any part-time jobs you undertake, a bank account is necessary.
Having your own bank account means that these payments will come to you directly. Without your own bank account, these monies would have to be routed through a parent or guardian's account.
A major reason why students take the step of studying abroad is to learn independence. An independent bank account is part of this. As a young adult, it is important to be able to feel in control of yourself. Surely, the financial agency in this regard is important.
What kind of bank account do you need?
1. Savings Account
There are many types of bank accounts but for most personal banking requirements, a savings account is the most appropriate.
A savings account is the most common kind of bank account opened by individuals for personal banking purposes.
There is no upper limit or cap to the amount of money that can be held in a savings account although the number of transactions may have some cap.
While most banks require people with savings accounts to maintain some mandatory minimum balance, this requirement is waived for accounts opened under the Pradhan Mantri Jan Dhan Yojana. Fortunately, accounts opened under this welfare scheme have a limit on the value of deposits made and the number of withdrawals, including ATM withdrawals, which are capped at 4 per month.
2. NRI Account
If you study abroad or plan on taking admitted in a foreign university, an NRI account may be a better option for you.
These bank accounts are for Indian citizens or Persons of Indian Origin (PIO) residing overseas. These accounts provide benefits in terms of currency conversion, transferability of deposits, taxes, etc. There are three main types of NRI accounts:
Non-Resident External (NRE) Accounts – NRE Accounts hold funds in Indian Rupees (INR). This means these accounts can be used to deposit funds in other currencies which get converted into INR. These accounts can be used as savings accounts for income earned abroad as no tax is levied on the interest generated by these accounts.

Non-Resident Ordinary (NRO) Accounts – These accounts can be used to deposit funds in both INR and foreign currencies. If you already have an ordinary resident bank account, you can convert it to an NRO account when you move to study abroad. These accounts can also be used to send money from India to overseas. Interest earned on income in an NRO account is liable for TDS (Tax Deducted at Source). This type of account may be the most appropriate first bank account for you if you plan on going to study abroad.

Foreign Currency Non-Resident (FCNR) Accounts – FCNR Accounts can be opened and maintained in a foreign currency approved by the RBI, including US Dollars, Australian Dollars, Sterling Pound, Euro, etc. These accounts can be used to maintain long-term deposits. The interest earned on deposits in FCRN Accounts is non-taxable.
What are the documents needed for your first bank account?
The two documents that are mandatory to open a bank account in India are an Aadhar card and a PAN card. Aadhar is the foremost single valid proof of address and identity for Indian citizens.
A PAN is a 10-digit unique alphanumeric number used by the Income Tax Department of India to track transactions and payments for tax purposes. These are both needed for KYC requirements.
If you don't have either of these documents, you need to apply for them first. You can apply for an Aadhar online through the UIDAI website and for your PAN through the NSDL website.
If you have your Aadhar and PAN cards, you can either apply for a bank account online or by visiting your nearest branch.
You will need to fill the appropriate forms and submit copies of your Aadhar and PAN cards along with two photographs. Depending on the bank other documents may be required and you should check the bank website or call ahead to confirm.
What next?
Once you have submitted the appropriate forms and documentation for KYC, the bank should take a day or two to verify your details or reach out for any clarifications or errors.
Once your documents are verified and your account is validated, you can receive your Bank Passbook, Cheque Book, and Debit Card from your bank.
Your bank will give you a PIN for your debit card which you will be expected to change by selecting a new one through an ATM of the same bank.
It is also a good idea to request internet banking facilities be made available to you, especially if you plan on going to study abroad. You may have to fill out a separate form for this.
With this done, congratulations! You now have your own first bank account! Your first bank account is one of the many first steps you will take as you enter adulthood.
Consult an expert advisor to get the right plan
recommended reading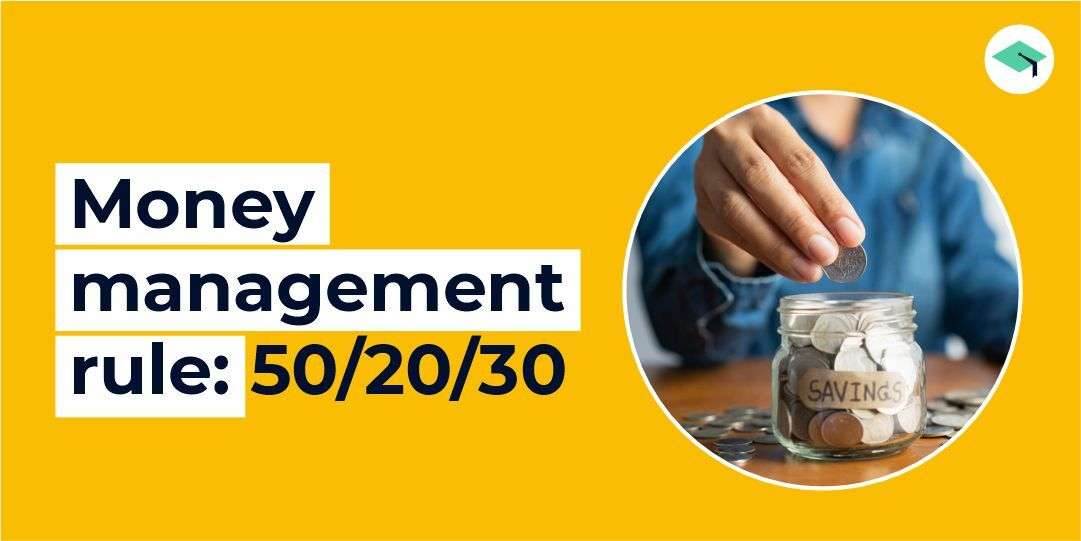 Improve your finances with these simple 50/30/20 Money Management rule Becoming wealthy is a matter of good money management. My salary dries up before the end of the month is a statement we hear very often. It happens due to multiple reasons like lifestyle inflation, expenses racing ahead of income, and also uncontrolled (or untracked) spending habits. It constrains us from saving up for our future as well. Our spending habits affect our future spending capacity. There is a practical rule that helps people channel what they earn to balance both their current and future spending capacity. The name of the rule is the '50/30/20 budget rule'. Realistic monthly budget Elizabeth Warren (US Senator from Massachusetts since 2013) stated this rule in her book All Your Worth: The Ultimate Lifetime Money Plan. It serves as a benchmark for most people by providing a well-defined optimum mix of needs, wants, and savings. A rule is a powerful tool for emergency money management, achieving long-term goals, and retirement planning. According to the '50/30/20' split, every monthly income (post-tax) must be divided into three categories of spending: Needs, wants, and savings. What exactly is the 50/30/20 rule? Needs, wants, and savings can be broken down into fragments as follows: NEEDS: 50% of Income - This category consists of expenditures on the basic requirements of daily life, for example, food, school fees (considering that the person is a parent), utility bills such as grocery and electricity, life and health insurance premiums, and debt payments too. WANTS: 30% of Income - These include facets of life that are not important for dear life but serve as an amusement. Some good examples are purchasing items in the shopping cart like mobile phones, non-essential clothing etc. Also, the OTT subscriptions that people buy belong to this category. Dining is an essential part of this category of expenses. SAVINGS: 20% of income - This component of the 50/30/20 rule tells us to put aside some money into return-generating assets like stocks, bonds, ETFs, and more. Assume we figure out how to produce a sound return (an abstract figure) over an extensive stretch with a steady increase in contribution (with an expansion in pay) to this category. All things considered, we will then be sitting on a decent corpus of wealth 20-30 years down the line, given the power of compounding. The savings component also allows us to plan for particular future expenses like children's higher education and retirement. Begin investment money management Strategy However, it's worth noting that the 50/30/20 split might be altered for a different ratio, based on a person's stage of life. For example, a student earning Rs. 25000, is bound to have a break which is highly skewed towards the savings component of the rule, whereas an adult earning Rs. 25000, might not devote a very high percentage of income to savings because of the expenses to be borne. One thing might go unnoticed – the fact that the 'needs' part of expenditure will saturate at some point, which then allows for higher spending toward the other two categories. The rule does not seem to work for people with very high and very low-income levels. The former group faces the crunch to accommodate even the necessities, and the very high-income people have the liberty not to divide their income into stringent ratios. Why money management is important? Following this rule will help people empower themselves to deploy their due diligence in money matters. Once people gain insight into their monetary inflows and outflows, they will be able to exercise better command over the way they spend their salary, and thus, consequently, become mindful of their spending habits and balance all facets and take maximum benefit from this. The most essential grasp of the rule is not the exact proportion as stated earlier, but the framework that the rule provides. The category split is subjective in nature, depending on the size of the income and the age of the individual. Let's begin our money-management journey with these small measures today.