Why Is The Market Falling Ahead Of Budget?
Look at the market fluctuations as your friend rather than your enemy; Profit from folly rather than participate in it."

Warren Buffet
The market (NIFTY50 Index) has corrected by 6.31% from its recent peak of 18350 (17th Jan 2022) to 17149 (25th Jan 2022) & 7.82% from its all-time high of 18604 (19th Oct 2021).
Wondering what that means? Read on to learn more.
Market Movement 15 Days Before & After the Budget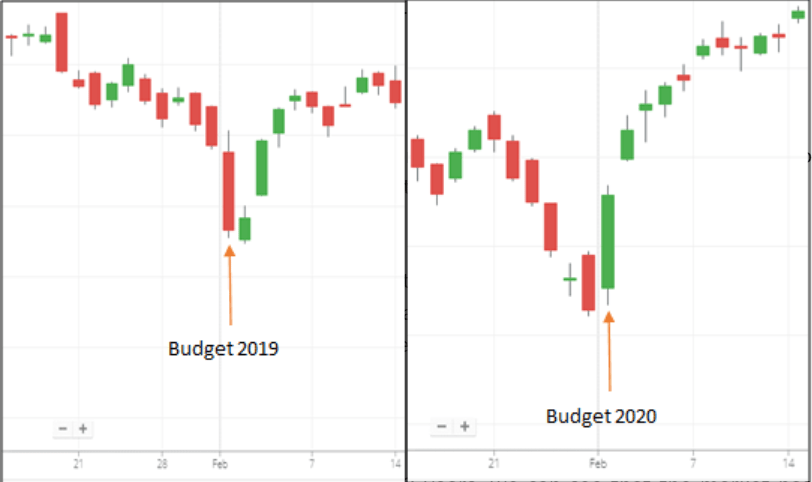 Decoding the charts
The EduFund Research Team has performed the study to determine the reason for the recent fall in the markets and here's what they came up with.
Reasons for the fall
Tightening of monetary policy by the US Fed department
Lower than expected results of major corporates
Tension on the borders of Ukraine-Russia
How the fall affects you
According to Nifty50's data of the past 2 years, we can see that the market has fallen by 6.56% in 2020 and 7.83% in 2021, just before the budget. And after these falls, the market has rebounded 5.32% & 13.49% in 2019 & 2020 – in a short time frame from the correction.
This means that there is actually no need to be worried about the fall in the market. After the budget, we could see a positive movement in the market.
We believe such correction/volatility in the market is a great time for long-term investors.
Make the most of the recent market fluctuations
These short-term market fluctuations and the volatility actually provide a good entry point in an otherwise rising market.
Also, if you are an investor investing through the SIP route, you should not panic about these volatile situations. Instead, let the rupee cost averaging work in your favour by topping up a lump sum during this time. India is currently trading at a PE of 24.84 (Median – 20.45).
Take a look at some of the top funds you can invest in
| | | | |
| --- | --- | --- | --- |
| Fund Name | Category | Annualised Returns (3-Years) | Risk |
| ICICI Prudential Corporate Bond Direct Growth | Corporate Bond | 8.19% | Low |
| Tata Hybrid Equity Direct Growth | Hybrid | 15.28% | Average |
| Mirae Asset Large-cap Fund Direct Growth | Large-cap | 18.61% | Moderately High |
| DSP Flexi-cap Fund Direct Growth | Flexi-Cap | 23.02% | High |
What are you waiting for?
Invest in these funds by clicking here.